Glasgow: 'Fight is on' to protect heritage amid quest to save buildings from demolition
Decorated with carved lion heads, cherub faces and hanging fruit, the once opulent office for a carting company emerged at the height of Glasgow's industrial powers, just a short walk from the Clyde.
Today, it stands vacant and weather worn, a fragile trace of the city's past. In a sooty fourth-storey window hangs a sign for a private investigator, but he too has long gone.
Soon, this five-storey building in Robertson Street will be completely overshadowed as the city continues to evolve and redefine itself beyond its Victorian core. Its new neighbour will be American banking giant JP Morgan & Chase, who will employ up to 3,000 staff over 13 floors in a prime site in the city's International Financial Services District.
Two listed 19th-century buildings, a warehouse and a tenement, both which sit in the Central Conservation Area, were demolished to make way for the bank, their condition deemed too poor to save in the end. Historic Environment Scotland agreed their demolition was justified. Construction of the bank building has moved to seven days a week.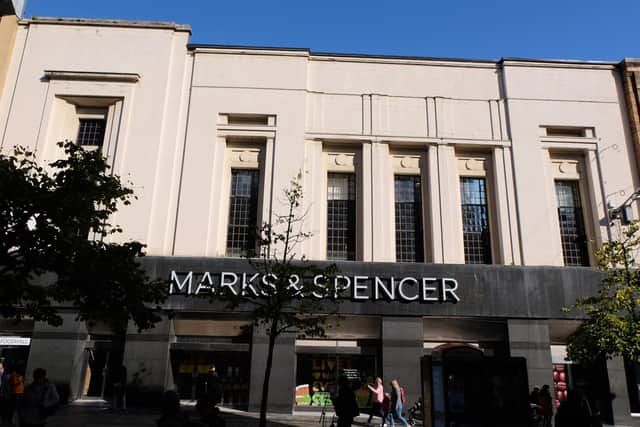 Iain Wotherspoon, chairman of the Architectural Heritage Society of Scotland (Strathclyde branch), said there was a "tremendous amount" of development now going on in the city.
The scale and height of buildings, particularly in conservation areas, was a concern to the society, as was the number of applications to demolish existing buildings to make way for new builds, he added.
"Buildings aren't just being mothballed, they are being nudged out of the way," Wotherspoon said.
"I can't stand here and say 'I am against development, it has got to stop' because that is not the case, but in the city centre we have a real problem where there is no control over the height of buildings. A conservation area really is about conserving scale and mass of buildings, the historic feel of a place."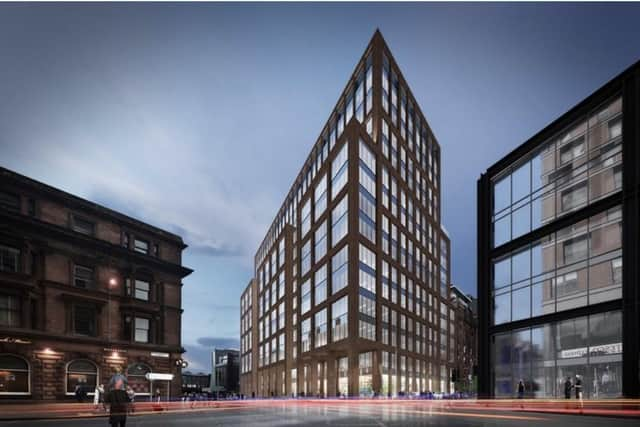 He pointed to an unlisted 19th-century tenement in Dixon Street in the city centre, which developers plan to demolish to build a 21-storey hotel.
Wotherspoon said: "This particularly annoyed us. It is not the finest building in the world, but if it was done up it would be a really attractive building. Historic Environment Scotland (HES) objected to the demolition, stating that it made a positive contribution to the Conservation Area. Glasgow City Council ignored this advice. HES very rarely offers comments on unlisted buildings, so when they do they should be listened to, but permission has been given for the demolition."
The society has also objected to the demolition of 11 Oswald Street, an 1840s bonded warehouse in the conservation area, with a 12-stroey hotel also planned for the site.
As the city continues to build up, the A-listed Hatrack building in St Vincent Street, a slender art nouveau-style building, will also soon be dominated by an extension to its office block neighbour, Wotherspoon added.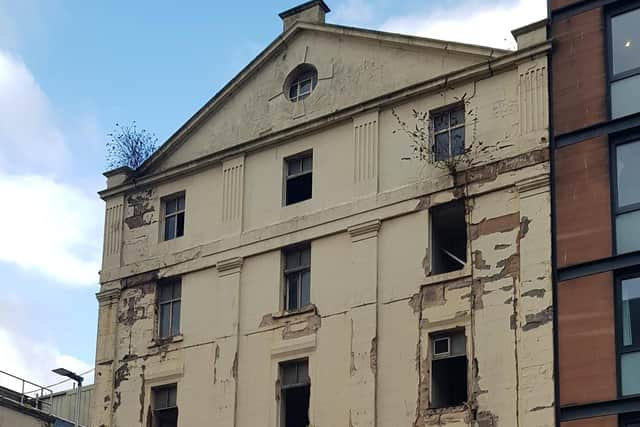 Meanwhile, the listed O2 ABC venue in Sauchiehall Street, which was seriously damaged in the Glasgow Art School fire, is also likely to be demolished. The future of the nearby vacant 1930s Marks & Spencers building, the earliest surviving example in Scotland of a frontage by Robert Lutyens and J M Monro & Son, who designed around 40 stores for the company, is not known.
Wotherspoon said he believed public interest in saving the historic built environment had revived. He said: "The '60s and '70s gave rise to a lot of groups who were saying 'no, this has got to stop'. People were getting more interested. I think in recent years we are seeing the fight is on again."
David Cook is director of the Glasgow Building Preservation Trust, an organisation that grew from the campaign to save the Briggait fish market from demolition in 1982. The trust, which set up the first Doors Open Day in the UK, conserves listed buildings at risk and connects communities to their heritage, has just marked its 40th anniversary.
Cook said he believed Glasgow was going through a "period of change" as development returned to the city following a pandemic-induced pause, with a huge focus also on regeneration of communities and neighbourhoods.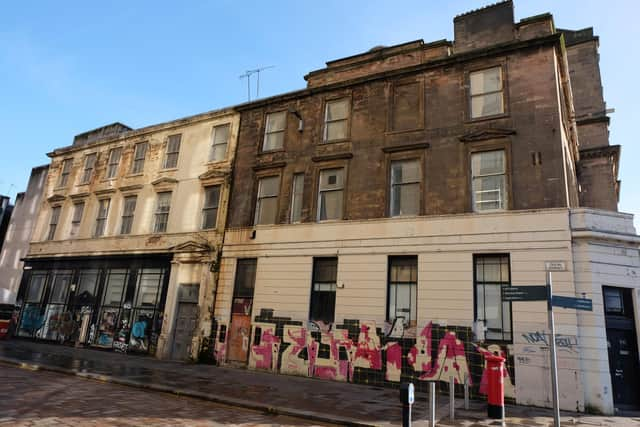 He said: "Glasgow has been a city in flux. It is still in flux and it will always be in flux.
"With Covid there was a dampening of activity and it does feel that there is a bit of a push on. It feels there are more cranes in the sky – and that is a good thing – economic activity."
Cook said the development of large-scale offices in the new financial district was driven by the opportunity to build on one of the few areas of flat ground in the city.
He said: "Does that mean that some warehousing and other buildings were lost? Yes. I am not going to give you a strong opinion on that, but I think that cities change and that kind of change is inevitable, particularly in a city trying to reinvent itself beyond its historic place as a industrial city with a port. Those things have moved elsewhere."
While the move towards the financial district had been an economic success given jobs creation, he said he hoped that lost buildings would be replaced with those of aesthetic and architectural value.
Cook added that building vertically had always been part of Glasgow's story given its tenements and offices, with London, for example, more spread out as it has built housing in terraces.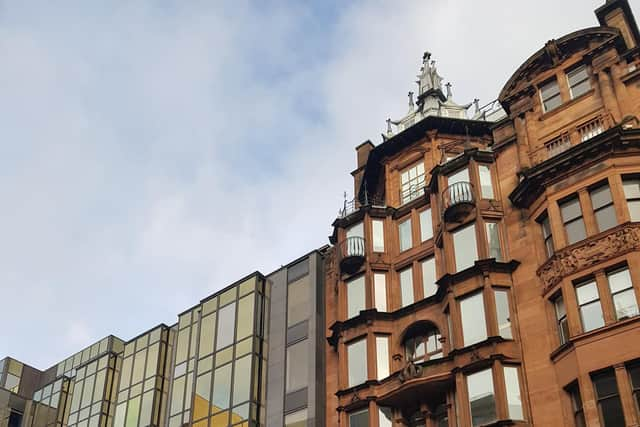 The trust is working with Glasgow City Council on a list of 35 heritage assets to prioritise those which can be renovated. Not all of them will make it, because there is just not the money, Cook added.
He said: "There feels like there is a renewed drive and confidence to look strategically at our heritage estate. Yes, it will take time and money, but I think it will lead to positive change."
Cook added "There is a perception that the city is not looking after its built heritage and I think that does not take account of the fact that all cities are dynamic places and don't stand still. Glasgow has not been standing still for decades. From the Garden Festival in 1988 to the Year of Culture, there has been a positive narrative of it redefining itself. And that goes on."
Comments
 0 comments
Want to join the conversation? Please or to comment on this article.