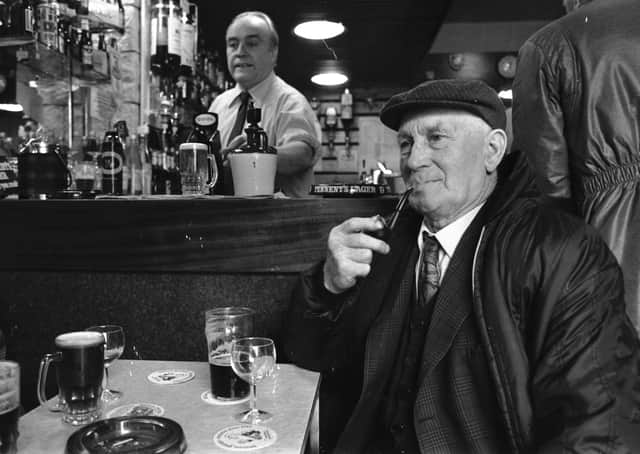 83-year-old Bob Cunningham enjoys a pint at the Royal Tavern, Thornton, Fife, on the first Sunday opening in October 1977. Picture: TSPL
As the nation adjusts to the Scottish Government's new 10pm pub restrictions, many Scots over a certain age have been keen to inform younger generations that such measures were once the norm.
Up until the mid-Seventies, it was de rigueur for bar keeps to holler "last orders" ahead of the 10pm closing time, with drinkers forced to head for the nearest club (which would often offer soft drinks only) or "cairry oot" endowed house gathering.
Generally opening at 11am, pubs also observed a kind of afternoon siesta, closing at 2.30pm, with the doors bolted shut till 5pm.
Sunday drinking was off limits too. Pubs had their day of rest and off-sales were prohibited.
One of the few exceptions were clubs that served food – revellers typically opting for affordable options, such as the famous chicken in a basket, to accompany their beverage.
Select hotel bars were also exempt, but they would need to be sufficiently far away from your place of residence so that you qualified as a "bona-fide traveller".
Stenhousemuir-born historian Jack Gillon recalls an era when "entertainment" was altogether more limited and even the BBC would call last orders at a certain point in the evening.
"The call of 'last orders' resulted in a mad rush for the bar and the gulping down of pints before time was called," says Gillon, 67.
"I suppose we weren't used to all-day entertainment – even the telly closed down relatively early by today's standards, with the BBC broadcasting its nightly closedown throughout the Seventies.
"After years of the restricted pub opening times, the introduction of all-day licences still seems quite strange."
Scotland's drinking restrictions were relaxed gradually following the passing of the Licensing (Scotland) Act 1976, which enabled publicans to apply for an 11pm licence and also paved the way for Sunday drinking.
Yvonne Wilson, 66, was a barmaid at the Bandwagon in central Edinburgh for much of the 1970s and says young people back then accepted the 10pm curfew, as "it was all we knew".
Ultimately, Yvonne believes the 1976 act had a negative impact on the nation's health.
She said: "That was the norm. The pubs shut at ten and that was it – apart from during the festival when they were open till 11.
"It wasn't like anyone said 'the pubs should be open later', we just accepted that.
"You could drink in some hotels. They used to have a disco in the Doric Hotel on a Sunday afternoon – that was unheard of anywhere else, and it was absolutely mobbed.
"But it ended up that people, instead of staggering in at half ten, were staggering in at half eleven now.
"With that extra hour, people were drinking more and more and it definitely had an negative impact on people's lives in the long run."
Retired painter decorator Rab Walker, 74, from Ratho Station, began drinking in pubs in the 1960s and says he preferred when the 10pm restrictions were in place, as it meant people could properly enjoy the dancing at Edinburgh's many dry clubs.
"After the pubs closed, I used to go down to The Place and The Gamp at Victoria Street. Neither of them served alcohol. These places only served soft drinks and coffees. Nobody complained, you just got on with the dancing.
"People were there for the music basically and it was brilliant. I think we had the best years, if you ask me."