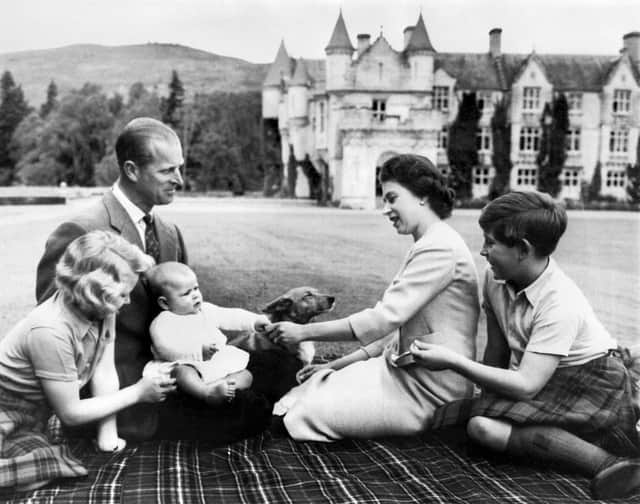 Sometimes, locals bumped into him as he walked free down by the river.
The Duke of Edinburgh, who died yesterday aged 99, knew Deeside. And Deeside knew him well in return.
Tributes nationally were led by Prime Minister Boris Johnson and First Minister Nicola Sturgeon to his life of dedicated public service and devotion to The Queen, his wife for 73 years.
But in Braemar yesterday, where Union Jacks and Saltires flew at half mast, he was remembered as a man who had genuine affection both for the people who worked the land and the natural life that made its home in the shadows of The Cairngorms.
He remembered names of those he had crossed paths with and, such was his long association with the area, the names of their children and grandchildren too.
Peter Fraser, 73, former head gamekeeper of Invercauld Estate, met the Duke and his family many times when they were invited to shoot grouse with Captain Alwyne Farquharson, Chief of Clan Farquharson.
He said: "Everybody around here admired the Duke. Everybody will be a wee bit upset today."
As they walked the moors, Mr Fraser found an easy, equal footing with the Duke as they shared a laugh as well as views on the countryside and its protection.
Mr Fraser said: "Personally, I liked him very much, a man with that knowledge. He had a great interest in everything, a great interest in what was happening locally.
"When you are dealing with the Royal Family, it is always a big occasion but thankfully when you speak to any member of the Royal Family, they put you at ease. The Duke was very easy to speak to.
"He had a wicked sense of humour and he used it to try and put people at ease.
"He was very down to earth and he spoke his mind. I like that about someone. Unfortunately, some people looked at it differently.
"If he had a disagreement with someone, an employee on the estate, well if he later realised he was in the wrong then he would always go and apologise to them."
Mr Fraser describe the Duke as a "very good shot" who came to Invercauld with some of his children, usually Prince Charles. The Queen sometimes joined the party for lunch.
He recalled how the Royal party would bring their own "picker uppers" to remove the dead grouse from the moor with the help of up to 20 dogs.
Mr Fraser said: "He loved his days out at the grouse."
"He was very, very knowledgeable about the countryside and the environmental issues that we faced.
"He always had very sensible ideas and I just wish some of the conservationists listened to him. We talked a lot about the decline of the capercaillie, the deer numbers.
"I would loved to have been able to work with him."
Long into his later years, the Duke kept in touch with gamekeepers across Deeside to keep up-to-date with developments on the land.
Philip Farquharson of Invercauld, the Younger, speaking on behalf of the clan yesterday, said there was "sadness" at the passing of the Prince.
"His joviality and prominent character will be missed on Royal Deeside," he added.
In the early days of his trips to Balmoral, the Duke was dropped at RAF Edzell in Angus before flying his own plane up to the castle to meet The Queen. Summer days at the Braemar Gathering were always a highlight.
Craig Nisbet, secretary of the Braemar Royal Highland Charity, organisers of the Braemar Games, said: "The Duke was coming to the games basically since he was married and attended right up until two to three years ago.
"They treated Braemar as a family event, rather than a Royal event. They enjoyed it. The Duke would get really quite animated during the heavy events. He was always cheering them on, particularly the tug o' war. You could always see him pointing and cheering. He was relaxed here.
"In his own little way he recognised people at the games, he acknowledged them. Our flag will go to half mast today."
Ironmonger Alistair Cassie of Bridge Street General Store, Ballater – who supplied the charcoal for the Duke's barbeques - recalled a man who appreciated the space offered by Deeside time.
Mr Cassie said: "He used to go away out in to the countryside for his barbeques. He used to head up to the backwoods at Balmoral or he also liked He Loch Muick, where he sometimes went with the Queen. He liked his privacy."
But he was also a man who liked to find a genuine connection with people. It is perhaps no surpise he made friends with the people of this part of Aberdeenshire, a place rarely moved by pomp and fuss.
Reverend Kenneth MacKenzie, minister at Crathie Kirk for the past 16 years, last saw the Duke in 2019.
He said: "Around here there are many people who had the opportunity to meet the Duke in person and all of them will be very sad to hear that he has died. He was someone who had a real interest in this place.
"He was a wise man, a thinking man but also a very thoughtful man and was regarded with some degree of affection. Yes he was Prince Philip, the Duke of Edinburgh, but people around here knew him as someone who was interested in what was going on here, in the traditions of the place but also its future. He was a huge part of life around here. "
The Duke found a natural home on Deeside, his place of purpose and peace.
A message from the Editor:
Thank you for reading this article. We're more reliant on your support than ever as the shift in consumer habits brought about by Coronavirus impacts our advertisers.
If you haven't already, please consider supporting our trusted, fact-checked journalism by taking out a digital subscription.
"