Emotional search for Scottish Highland ancestors 250 years after the Hector sailed
Descendants of the Hector emigrants who sailed for North America 250 years ago have spoken of an emotional trip to the Highlands in search for stories of their ancestors – and a surprise connection made with a major figure in Scottish history.
Neil Fraser, 66, from Toronto, and his sister Heather are directly descended from three passengers on the ship that left Loch Broom on July 8, 1773 in one of the first emigration voyages from Scotland to present-day Canada.
They are among relatives of the 190 passengers who left home and boarded the ship in the decades that followed Culloden in search of prosperity and a promise of land holdings far greater than those farmed at home. Estates of Jacobite leaders and supporters had been seized by the state and British Army soldiers occupied garrisons set up in communities to impose rule, law and order on Highlanders in the years that followed.
Mr Fraser said his ancestors – Hugh Fraser, Magdalene Mackenzie and Charles Fraser – came from the Beauly and Muir of Ord area. They were among those who secured passage for £3 and 5 shillings on a voyage beset with illness, dreadful sailing conditions and the death of 18 passengers, many of them children, all who were buried at sea.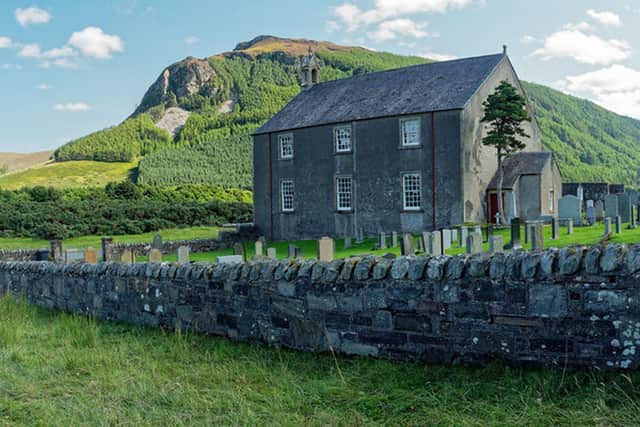 Mr Fraser, 66, said tales of the emigration had become part of his family 'myth', which in later life became important to unravel.
He said: "The emigration, the Highlands was perhaps more of a family myth in a way because we didn't have the facts. Me and my sister took an interest when my father passed away and we set out to debunk some of those family myths.
"I have spent ten to 15 years just trying to establish who from my family was on the boat and now I have come to Scotland to find out more about their families."
Mr Fraser said details of the lives and circumstances of his ancestors were still unclear, although Hugh Fraser became a Presbyterian church elder shortly after arrival in Pictou.
Since arriving in Scotland, genealogy experts at High Life Highland in Inverness have helped with his family tree, with the discovery that Mr Fraser is also descendant of Robert the Bruce.
"To be honest, I am shocked by that," he said. "There will be a lot more reading and research needed when I get home.
"We are so grateful for everyone who has helped us. To be honest, I think genealogy tourism could be a great boon for the Scottish economy, not just Outlander tourism, but tourism that allows factual discovery of family roots, history and how people lived pre-emigration."
Mr Fraser said a visit to the Clachan Church by Loch Broom, where the last communion was held for the emigrants in an outdoor service in the rain – given the large crowd couldn't fit inside – had been "unbelievable, to stand there on that spot".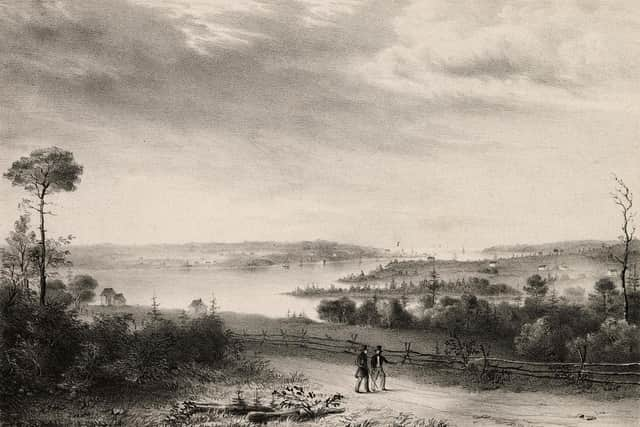 Tradition has it the communion cup was filled with rain – or the tears of the soon to be departed.
Of his ancestors, Mr Fraser said: "I think they were very determined and courageous and striving for a better life. There were tremendous hardships on the journey. There was small pox and typhoid on board. They landed in Nova Scotia on September 15 – no food, no shelter and the winter was coming. It was the indigenous Mi'kmaq who taught them how to survive.
"Needless to say we feel very proud of our ancestors and we feel a great affection for Scotland."
The Clachan Church was bought by The Clachan Heritage Trust from the Church of Scotland after it raised £30,000 from friends, family and supporters. Here, on Saturday, a Hector open day will be held.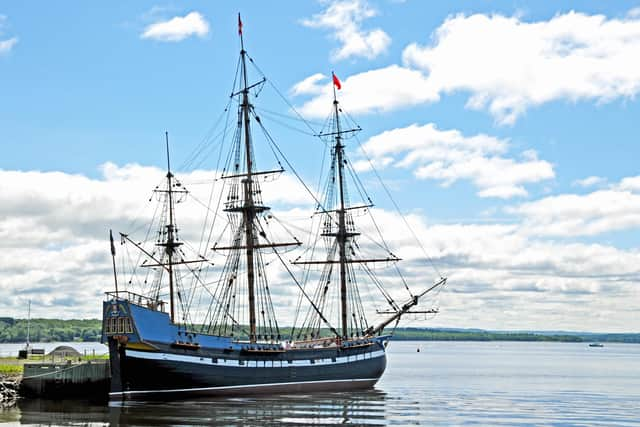 Sarah Mackenzie, treasurer of the Clachan Heritage Trust, said: "Every year we get at least one family linked to the Hector coming back to see the church and to chat and relax. It is always very much on a personal basis. We feel very connected as they are very much like us. They took Scotland, the culture and attitudes with them and preserved them, in some ways. So it always a very comfortable experience, interesting and emotional."
Around 30 descendants of Hector passengers visited the church in July to mark the 250th anniversary .
Ms Mackenzie linked the Hector departure to the living conditions that set in after Culloden.
The minister at Clachan, James Robertson, who conducted the last communion outside the church, urged parishioners not to join the Jacobite-supporting Earl of Cromartie. But tenants of the Mackenzie lairds signed up wholesale to the regiment.
"They didn't get to Culloden as they were captured and fought at Little Ferry in Golspie the day before," Ms Mackenzie said.
She added: "The Earl of Cromartie's Loch Broom estate was one of the forfeited estates. The Hector emigration was voluntary, it wasn't forced. People were given the chance by John Ross, the agent, who recruited people and was fairly local. He ran the linen factory here, which was set up by the forfeited estates commission and he was also a merchant over in Dingwall, so he had a lot of local connections. He was saying, you will get 200 acres or 400 acres in Canada and it is only going to cost you £3 and five shillings to get you there.
"We think that people felt it was a better deal that living under the forfeited estates with our culture going, with it being damaged. About nine or ten years after Culloden, there had been a garrsion here and people were having their liberties restricted.
"When they did arrive at Canada, some of the young men had put on their kilts and tartan, which was still proscribed in Scotland. They were no longer free people. That has been said in descriptions, and that their spirits rose up against these outrages."
Comments
 0 comments
Want to join the conversation? Please or to comment on this article.