Edinburgh University launches review of buildings linked to racism and slavery
Edinburgh University is to examine links between its buildings and slavery with some properties potentially to be renamed.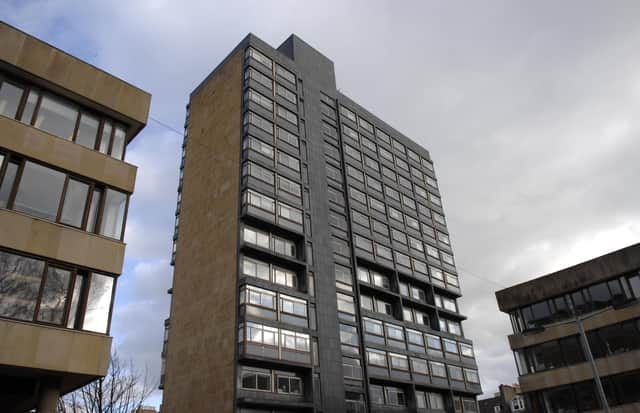 The consulation follows the controversy surrounding David Hume Tower in George Square, which was renamed at the height of the Black Lives Matter protests last year after a petition highlighted the racist views of the 18th Century philosopher.
The university said the consultation, which is set to last around a year, would examine its "relationship with its past" with recommendations to help better reflect its diversity.
Sir Geoff Palmer, a respected voice on racism and slavery said it was a "great honour" to chair the steering committee which will lead the review.
Sir Geoff said: "We will look at David Hume Tower and other buildings. The university has links to buildings all over Edinburgh and we will be looking at these and the individuals linked to them. I imagine it will include statues too."
Sir Geoff said Hume's remarks on racism underpinned views that continued to cause suffering today, including the alleged murder of George Floyd by police in Minneapolis last May.
In 1753, Hume wrote in 'Of National Characteristics': "I am apt to suspect the negroes and indeed all species of men (for their or four five different kinds) to be naturally inferior to whites.
"There never was a civilised nation of any other complexion than white nor even any individual eminent either in action or speculation."
Sir Geoff said: "That was a prejudice, it was prejudged and not based on evidence. The only evidence that Hume had is that someone in Scotland lived in a house and someone in Africa lived in a hut.
"When you back up prejudice with a statement of fact, then it becomes discrimatory.
"That was applied to black people in slavery to justify their enslavement.
"It was also deployed by the police who killed George Floyd."
Sir Tom Devine, Professor Emeritus at the University of Edinburgh, led condemnaiton of the decision to drop the name of "legendary global colossus of philosophy and history" from the building and the way the matter was handled by the university.
David Hume Tower is now known as its postal address – 40 George Square.
In a recent article for Scottish Review, he wrote: "Hume was born in 1711 and died in 1776. The very pejorative terms which formed the basis of the protest were not recorded in any authoritative English dictionary until 1902 and only three decades after that they come into more common usage.
"Hence to condemn Hume for being a 'racist', a term which did not exist until nearly 150 years after his death, is not only manifestly unjust but patently absurd."
A university spokesman said the review would be an evidence-based assessment of the University of Edinburgh's past associations with the Transatlantic slave trade, colonialism and other aspects of race and racism.
"The process will be highly consultative with students, staff, alumni and wider relevant stakeholders asked to take part. It will remain open to the widest possible sources of information and viewpoints."
As the consultaton opens, former student, Douglas Currie, of Dalkeith Road, is seeking support for his suggestion that 40 George Square should take the name of Africanus Horton, the first African graduate of Edinburgh University, who qualified in medicine in 1859.
A message from the Editor:
Thank you for reading this article. We're more reliant on your support than ever as the shift in consumer habits brought about by Coronavirus impacts our advertisers.
If you haven't already, please consider supporting our trusted, fact-checked journalism by taking out a digital subscription.