On this day 1590: James VI lands at Leith and prepares to launch witch hunts across Scotland
On board the royal fleet of 16 ships that edged towards Leith on this day 430 years ago was a King consumed by ideas that dark forces were at play in Scotland.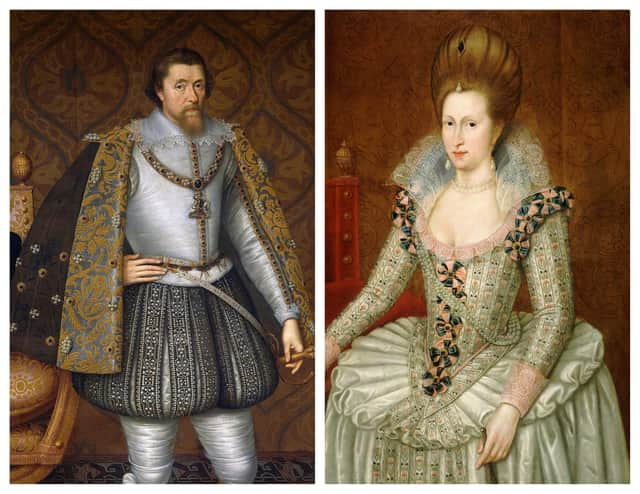 James VI and his wife Anne of Denmark arrived in Leith on this day in 1590 with the King convinced that dark forces were at work to try and kill his new bride.
After James VI landed back on Scottish ground following months overseas with his new wife, Anne of Denmark, it was not long before the witch hunts that accused at least 3,800 people of doing the devil's work began.
The couple and their entourage arrived in Leith to a lavish welcome with a huge fire lit on Salisbury Crags that night to mark their return.
But also burning away was James VI's obsession with witches with rumours abound that those supposedly with a direct line to the Devil had conjured up a North Sea storm so powerful it would kill the King and his new Queen.
The King had been absent for some six months after leaving Scotland for Norway to meet his wife, whose voyage to Edinburgh in September 1589 – a month after they were married by proxy – was thwarted by terrible weather.
The couple wintered in Denmark to allow the weather time to calm, with the King learning that two women were executed at Kronborg after being found guilty of raising storms to delay the Queen's journey.
James VI began to investigate the possibility that a coven in Scotland was working alongside counterparts in Denmark to try and kill the new Royal couple during their attemots to get home.
News came to the king that his old adversary, Francis, 5th Earl of Bothwell, kept an active witch coven in East Lothian under his influence and, after landing in Leith, James VI started his investigation into witchcraft in Scotland.
In December 1590, Scottish and Danish officials met at sea in the Firth of Forth to discuss the issue with talks concluding that there had been witches in both Denmark and Scotland who had been working in cahoots to destroy the newlyweds.
According to accounts, trials were raised against four further women in Denmark thought to be involved with the plot.
In Scotland, proceedings were raised against the so-called North Berwick witches, who congregated in St Andrews Auld Kirk in the town, and their accomplices.
It was the first large scale prosecution of its type in Scotland and those arrested and put on trial included Dame Euphemia Macalzean, Agnes Sampson, a herbalist of Nether Keith; John Cunningham of Prestonpans, a schoolmaster and secretary to Lord Bothwell; Geilie Duncan of Tranent and Barbara Napier and Ritchie Graham both of Edinburgh.
It is said that James VI personally interrogated a number of suspects.
Agnes Sampson was tortured at Edinburgh Tolbooth where she was pinned to the wall using a witch's bridle, an iron muzzle that clamps the head, and eventually she confessed to 53 charges against her.
During her confession she claimed she attached parts of a corpse to a cat, sailed to sea in a sieve, then put the cat into the sea to create a storm to shipwreck the king.
They were among at least 50 people executed for endangering the life of the King with the episode to lead to witch hunts lasting longer in East Lothian than almost anywhere else.
According to reports, 73 people were tried for witchcraft in Dunbar presbytery between between 1593 and 1705 but this is believed to be a modest indication as to the levels of persecution, given gaps in recorded evidence of one of Scotland's darkest chapters.
Meanwile, James VI published Daemonologie in 1597 following the Berwick Witch Trials, with the proceedings charted in the third section of the book.
In it, he attempt to "resolve the doubting...both that such assaults of Satan are most certainly practiced and that the instrument therefore merits most severely to be punished."
The Witchcraft Act was in force between 1563 and 1736.
Between these years there were five episodes that stand out as periods of high level accusation and prosecution of witches: 1590-1, 1597, 1628-30, 1649 and 1661-2, according to the Survey of Scottish Witchcraft at Edinburgh University.