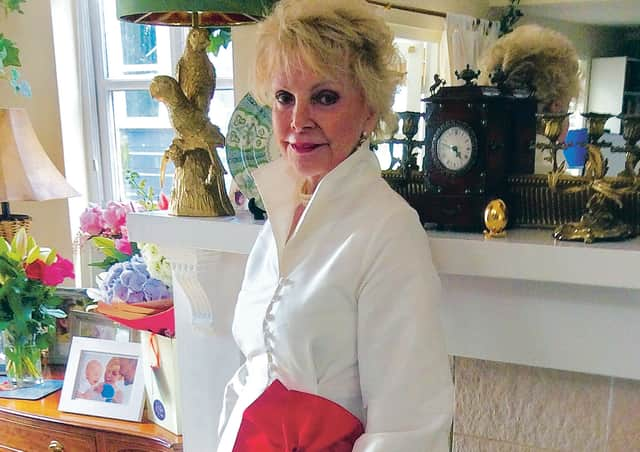 Kairen Ruse
Whether in Hollywood or Paris, Olivia de Havilland lived a life of glamour and luxury, and her death at 104 last weekend was mourned by movie fans around the world, but in a small women's tailor's shop in Perth the final cut for the Oscar-winning star was felt a little more deeply.
For over 40 years, Kairen Ruse has been writing to her cousin, just as her mother and father did before her, and now, the letters she received in return in beautiful copperplate handwriting, or from the actress's typewriter, all signed with a flourish, will no longer land on her doormat.
"When I heard she had died, I felt ill," she says. "Olivia was always there. I can remember as a child my father Johnny corresponded with her, and when he died in 1962 my mother Rachel took over, and when she died in 1979 I took over. Cousin Olivia was just always there, it feels very strange that's no longer the case.
David Niven stars with Olivia De Havilland and Douglas Walton in the Samuel Goldwyn film 'Raffles'
"She was such a kind and generous woman, she had a real aura about her, though that might sound strange, but you definitely knew she was someone special."
Kairen, who was an actress prior to running her own business, says she met with the Hollywood icon half a dozen times over the years, and recalls a school trip to Paris in 1966, when she was 16, and an unexpected phone call.
"We were all going out, and suddenly the teacher told me there was a call for me, and there she was on the other end saying she was saddened we couldn't meet up but wanted to make sure I had a wonderful time in Paris. It was wonderful that she took the time out to find out where we were staying, through my mother. I was a bit flustered and had to speak in front of everyone who was there, but here was this huge star taking time to do that."
Always known to her as "cousin Olivia", the pair were related through Kairen's grandfather Alfred, brother to Olivia's mother Lilian Ruse.
"I think the nicest meeting happened in 1995. My daughter Lucy was about to start at Gordonstoun, as she had won a scholarship, and I had separated from my husband and saved some money, so we decided to go to Disneyland Paris and let Olivia know. She wrote back inviting us for afternoon tea.
"We got our posh frocks on and took a gift from Scotland and went on the Metro, but when we got off at the 16th arrondissement it was pouring, and we had no coats or umbrellas. So we ran to her beautiful townhouse – which was just round the corner from Giscard d'Estaing and Yasser Arafat, who was living in the same area at that time – and she took one look at us, looking like drowned rats, said "oh my dears" and made us change into fluffy dressing gowns, and that's how we had afternoon tea.
"It was lovely to hear the stories of the big film studios, and she'd mention stars, but wasn't name dropping as she was there and to her they were fellow actors."
Another meeting involved dinner at a restaurant off the Champs Élysée, when the actress was in her 80s. "Suddenly there was a sort of hush because Miss de Havilland was coming for dinner. It was just an amazing experience," recalls Kairen. "The thing about her was her eyes, something so beautiful about them – brown doe eyes which emanated kindness and gentleness.
"But she was also a very feisty lady and highly intelligent. I'd love to have turned the clock back to being in the room when she faced up to those Hollywood men."
Sadly for Kairen, 70, most of the letters kept by her parents went missing when she moved house "so I don't have a complete record… She hand wrote the letters, then she got a typewriter, but always there was her beautiful signature, and I treasure those I do still have. She just had such a wonderful way of writing – it was like a mystical, magical story in every letter. I do miss her, because there was always 'Oh I'll write to Olivia about that' and now she's gone."