A budget squeeze has prompted Network Rail to consider whether to reduce the scale of a new "reception hub" building in Dalmeny from where groups would be led to the top of the 110m-high (360ft) railway crossing.
The development comes ten months after revised plans for the "Forth Bridge Experience" were approved by Edinburgh City Council.
The climbs are due to involve groups of 12-15 people equipped with safety harnesses being accompanied up walkways to two viewing platforms on the south cantilever, or tower, of the 133-year-old bridge between Fife and Edinburgh.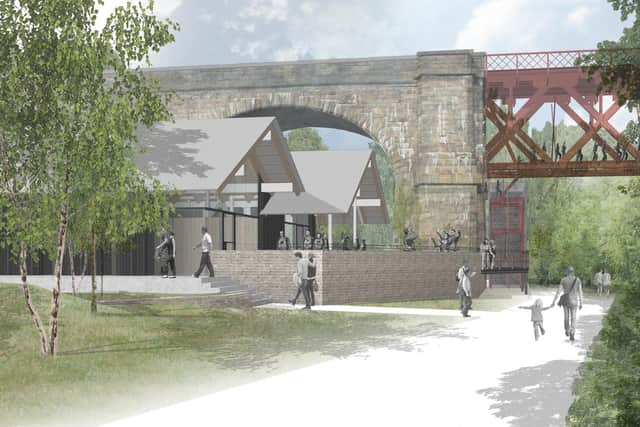 However, Alex Hynes, managing director of Scotland's Railway, which comprises Network Rail Scotland and ScotRail, said the project costs were being reassessed.
He told The Scotsman: "We are continuing to work on the business case as part of the three bridges tourism strategy [which also includes the adjacent Forth Road Bridge and Queensferry Crossing].
"We believe there is a big market for the Forth Bridge Experience, but money is tighter than it was and so we are looking at scaling back the cost to try to improve its value for money, such as the cost of the visitor building. We're also looking at pricing for those taking the tours because of the cost-of-living crisis."
The project is expected to enable up to three groups an hour to climb the bridge, with each tour lasting around two-and-a-half hours.
A spokesperson for Network Rail, which owns the bridge, added: "We're looking again at the costs and seeing if we can deliver it for less. But we will continue to work with [Scottish Government agency] Transport Scotland to explore options to take the Forth Bridge Experience forward in the current challenging public funding landscape."
The plans approved in June last year included siting the single-storey "reception hub" to the east rather than west of the bridge in Dalmeny on the south side of the Forth, further away from neighbouring homes.
They also involved bridge walkers using an existing access stair from a new raised terrace, rather than via a ramp around the building and a new gantry.
Network Rail had planned to seek a main contractor for the work after winning planning permission. The infrastructure body has said the attraction would offer "a unique and memorable visit to one of Scotland's most loved and iconic structures".
It said the reception building would be "sympathetically positioned in the landscape and offer stunning views of the iconic heritage structure while minimising the impact on the surrounding environment".
The centre would include a 56-space car park, with four disabled spaces and 15 electric vehicle charging points. Initial plans for the centre, which were approved in 2020, included the number of spaces being halved by the council to 39.
At the time, Network Rail said the reduction would lead to an overspill of some 17 cars and the car park being full between 1pm and 7pm every day.