Glasgow-born Alan Mair jumped on the early '70s platform shoes fashion fad and ran with it – or at least as fast as one can in four-inch-high heels.
In fact, Mair, who tasted great success in Scotland in the 1960s as the bassist in popular beat group the Beatstalkers, reckons that if you bought a pair of platform boots between 1971 and 1975, then there's a fair chance it came from his London boutique.
Suffice to say, Mair's stacked heel boots were massively popular among '70s clubbers, both north and south of the border.
Mair opened his own shop in Kensington Market around 1970 shortly after his group the Beatstalkers broke up and would eventually sell products to a whole host of famous and soon-to-be-famous faces, including Yes, Santana, the Rolling Stones, David Bowie and Uriah Heep.
A year into running his shop, Mair offered the role of shop manager to none other than Freddie Mercury, who had yet to make it big with Queen.
Mair said: "Freddie would say he had this little band and that he'd be turning professional soon. I used to think, 'yeah, OK, I'll believe it when I see it'."
With Mair in the factory and Freddie on the shop floor, business was soon booming, with in excess of 1,000 pairs of boots flying out the shop every week.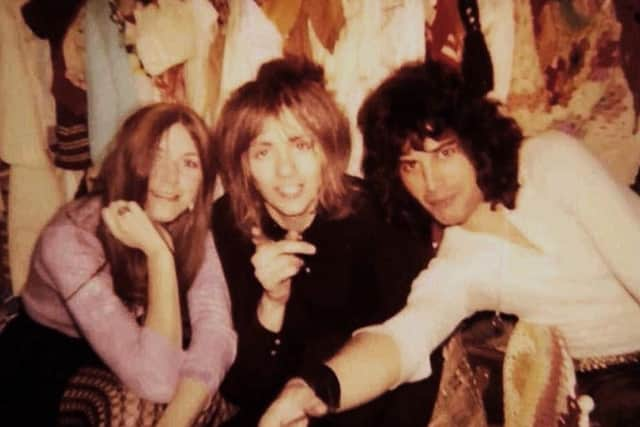 And the deal was mutually beneficial, with Freddie earning more than three times the £20 per week he was getting for fronting Queen at that time.
Mair continues: "One time David Bowie comes in to see me and I ask him if he'd like a pair of boots. David told me he hadn't any money, so I offered him a pair and said 'Freddie will fit you'.
"Of course Freddie wasn't known then and David wasn't a big star yet, but there he was, Freddie Mercury on his knees fitting David Bowie with a pair of boots he can't afford."
Eventually Freddie's "little band" would go on to make it very big indeed and the Tanzanian-born singer's musical talent would ensure he'd never have to sell boots for a living ever again.
Before leaving his employ in 1974, the Bohemian Rhapsody singer gave Mair one of the best compliments he's ever received.
Mair said: "On one occasion Freddie had been at a party and told me how absolutely everyone who had been there had been wearing my boots. He went 'I don't know if you realise this Alan, but you're not considered hip unless you've a pair of Alan Mair boots on'. I was just delighted to hear that."
A message from the Editor:
Thank you for reading this article. We're more reliant on your support than ever as the shift in consumer habits brought about by coronavirus impacts our advertisers.