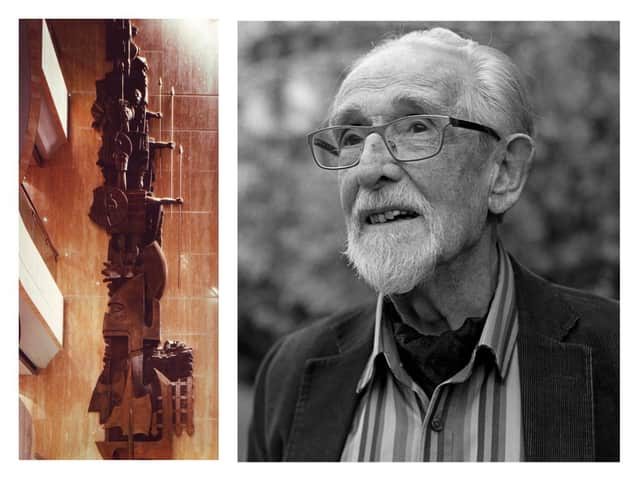 The 60ft work by Charles Anderson – whose work graced modern buildings such as shopping centres, swimming pools and office blocks as they appeared from the 1960s - was commissioned for the old Scottish Amicable complex at Craigforth outside Stirling.
The fibre glass and bronze sculpture climbed four storey's of the office block, later owned by Prudential, and told hundreds of years of Stirling's history.
The future of the piece appeared to be at risk given the building is due be demolished to make way for a new living and work complex.
But developers have now said they would be "proud" to fit the sculpture into the new landscape at Craigforth.
Mr Anderson's work has become the focus of several campaigns as the original locations for his pieces are redeveloped.
He said he had been "disturbed" at the thought of losing the sculpture but said news of his apparent reprieve was "splendid" news.
Mr Anderson said: "It is very comforting to know that it is going to give pleasure to a future generation. I shall sleep soundly tonight."
"My aim has always been to bring art to the people and I wanted to engage with people who might never go to an art gallery. The answer was to take it to them and put it in their offices, their canteens, their swimming pools. I was kept very busy for many decades."
Mr Anderson's work The Swimmers was saved from the redevelopment of Stirling swimming pool in 2014 when the stunning mural was rescued by the original builders, the Ogilvie Group, with the sculpture now standing in floodlights by the firm's premises in the town.
A piece of abstract sculpture created for the Inland Revenue Office at Cumbernauld, which is due to be redeveloped, remains at risk. It has been moved to the bottom of a car park and is now covered in brambles.
The potential threat to the Prudential sculpture was highlighted by filmakers Paul Gallagher and Michael Prince, who are making a piece on Mr Anderson's life and work.
Mr Gallagher said further examples of the work at Charing Cross station and the Savoy Centre had now been obscured.
He said: "Charles Anderson is one of Scotland's greatest and least known artists, whose work is seen everyday by literally thousands of people. His work is of great value and reflects a particular time in history. "
A spokesman for The Ambassador Group, which is leading the Craigforth development, said: "Whilst we do not own the artwork in question, we would be pleased to work with the supporters of Charles Anderson and Historic Environment Scotland to approach the current owners, M&G plc and assist where we can.
"As part of our proposed redevelopment of the Craigforth campus, transforming the site into an exceptional place to both work and live, we are keen to create an active community space, which can be used by locals and artists alike. We would be proud to retain this unique mural by showcasing it at the wonderful location of Craigforth, where it can be enjoyed by the wider community for many generations to come."
Thank you for reading this article. We're more reliant on your support than ever as the shift in consumer habits brought about by Coronavirus impacts our advertisers.
If you haven't already, please consider supporting our trusted, fact-checked journalism by taking out a digital subscription.