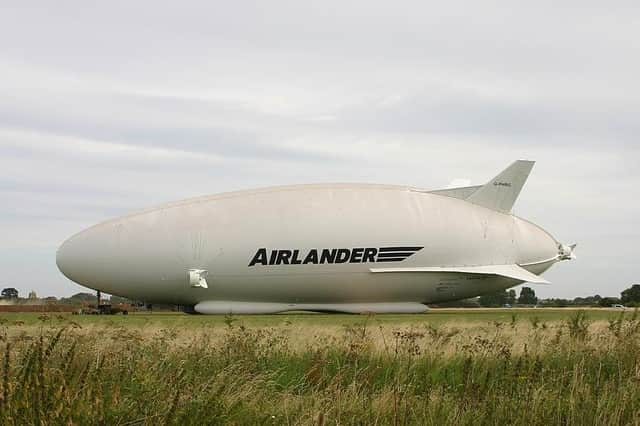 The prototype Airlander 10 in August 2016.
Now, one century on, the inter-war transportation phenomenon is gearing up for a return to Scotland's skies for the first time since the 1930s.
Sustainable aircraft manufacturers Hybrid Air Vehicles say airships will be part and parcel of everyday travel in the UK by the middle of this decade.
Should everything go to plan, a method of air travel that crashed and burned before it could ever truly take off will rise once more.
The R36 airship was launched in 1921.
Originally designed in 1917 for military use, airship R36 was being adapted for commercial purposes by the time the first signatures appeared on the Treaty of Versailles.
Built by engineering firm William Beardmore and Co, the airship, which was modelled on and featured engines cannibalised from seized German zeppelins, was launched on April 1, 1921 at Inchinnan near Glasgow.
R36 was emblazoned with the civil registration G-FAAF, making it the first airship in the world to be granted the right to carry paying passengers.
Within months, the 50-capacity airship was carrying out demonstration flights and being used to help police control traffic at sporting events.
However her working life would prove to be incredibly short-lived.
R36 was critically damaged on trip to Pulham on June 21, 1921, and was never used again.
Worse news would follow in August when sister ship R38 crashed, claiming the lives of 44 passengers and crew and ultimately putting an end to support for airship travel.
The Inchinnan-built R36 was eventually scrapped in 1926 and the novelty of the airship vanished from Scotland's airspace.
But the demise of the R36 and her sisters may not be game over for airships after all.
Billed as the world's longest aircraft, the under development Airlander 10 is being tipped to bring airship travel into the 21st century.
Prototypes of the Airlander 10 carried out a series of successful test flights in 2016 and 2017, and there could soon be much more to come.
Rebecca Zeitlin, Head of Communications and External Affairs at Hybrid Air Vehicles, says the UK-based company plans to launch production of its Airlander 10 aircraft series in the very near future.
She told The Scotsman that the eco-friendly and electric powered hybrid aircraft will launch with 90 per cent fewer emissions than a standard jet aircraft, with a goal of zero emissions by 2030.
She said: "Every area of the technology has moved on a lot in the last hundred years. Not only do we use inert helium as our lifting gas, we use advanced materials like carbon fibre and technology like fibre optics. These modern technologies result in a very green aircraft – and one that's ready to adopt fuel cells to fly with zero emissions before the end of the decade.
"We're preparing to launch production soon with the first Airlander 10 aircraft entering service with customers from 2025.
"While our market may be global, I see numerous possibilities for Airlander aircraft to be operated in Scottish skies this decade, building connections between Scotland and the wider UK – and even further afield."
A message from the Editor:
Thank you for reading this article. We're more reliant on your support than ever as the shift in consumer habits brought about by coronavirus impacts our advertisers.