When will I receive the Covid vaccine in Scotland? priority list explained - and how to use vaccine calculator
All people aged 50 and over should be offered the vaccine by the end of May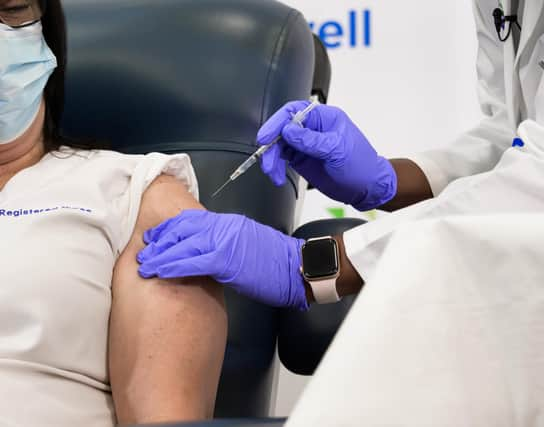 The First Minister Nicola Sturgeon has announced the phase return of schools, as the vaccination programme is well underway.
The Scottish Government expects all adults to have received at least one vaccination dose by early May 2021, though supply issues could postpone this target.
On Monday 15 February, nearly 1.3 million people in Scotland had been vaccinated, though the Scottish daily average vaccine distribution have declined by almost a half from the same day last week.
So, when can you expect the vaccine? This is what we know.
Who is currently being offered the vaccine?
According to the Scottish Government's targets, over 70s should now all have been vaccinated.
However, on 15 February there were 32,814 people given the first dose, just above half of the 61,299 on the same day the previous week.
This has been attributed to an issues with the delivery and roll out of the Pfizer vaccine, one of only two vaccines currently being used in the UK.
It has been reported that the Scottish Government had received 800,000 doses of the Pfizer vaccine by early February and over 650,000 doses of Oxford Astra-Zeneca - accounting for over 1.45 million doses. Of which, more than 1,288,000 have been used.
In order for the targets to be adhered to, 280,000 people aged 65 to 69 will need to be given their first dose by early March.
Due to the lack of access to vaccines in the UK in the next two weeks (the last two in February) Nicola Sturgeon has now stated that no more than 30,000 vaccines will be given out per day.
This should be enough to remain on track, with over 50s and any clinically vulnerable adult next to receive their first dose.
When can I expect to receive the vaccine?
Over 70s and those defined as clinically vulnerable - considered priority groups three and four - should now have all received their vaccine.
Then, those aged over 65 and adults over the age of 16 who have underlying health conditions are to receive their first dose by mid-March.
By the second week in May, those over 50 years old and any adult considered extremely vulnerable will have received their vaccine - this will conclude the first vaccinations of all priority groups.
After receiving the initial dose of the coronavirus vaccine, people will then be invited to receive the second dose approximately 12 weeks later.
This means those who are last to receive the vaccine in May will be fully immunised by mid-July.
What are the nine priority groups?
Nicola Sturgeon has said her government is administering the vaccine in accordance with advice from the Joint Committee on Vaccination and Immunisation (JCVI).
As such, the nine priority groups are:
1. Residents in a care home for older adults and their carers
2. All those 80 years of age and over and frontline health and social care workers
3. All those 75 years of age and over
4. All those 70 years of age and over and clinically extremely vulnerable individuals
5. All those 65 years of age and over
6. All individuals aged 16 years to 64 years with underlying health conditions which put them at higher risk of serious disease and mortality
7. All those 60 years of age and over
8. All those 55 years of age and over
9. All those 50 years of age and over
Children and adults under the age of 50 who do not have an underlying or significant health condition have not yet been told when to expect the vaccine.
A vaccine calculator has now been made available for people in Scotland to determine when they are likely to be immunised.
How does the vaccine calculator work?
The vaccine calculator has been created on Omnicalculator, and uses specific details to estimate when you could receive the vaccine.
Based on the UK's current nine-point priority list for the vaccine, it tells you how many people are likely ahead of you in the queue.
Omnicalculator has also gathered data on how big each group is likely to be, in order to estimate where you are in the queue.
Questions asked by the calculator include your age, health conditions and whether you are pregnant or if you are a care home worker or an unpaid carer.
It then uses this information to calculate when you're most likely to receive the vaccine, based on the answers you've given.
What vaccine will I receive?
Scotland, like the rest of the UK, has now received batches of the American Pfizer and Oxford-AstraZeneca vaccine.
The Moderna vaccine has also been approved for use by the Medicines & Healthcare products Regulatory Agency (MHRA) but will not become available until the springtime.
People are not given a choice over which one they receive, but all are expected to be around 95 percent effective and safe for use.
It is advised that patients receive their two doses from the same type of vaccine, as there is not enough data to determine the effectiveness of using different vaccines each time.