What is period poverty? Why sanitary products are now free in Scotland - and where they are available
Scotland is the first country in the world to make free sanitary products available in all schools, universities, colleges and public buildings
Labour MSP Monica Lennon led a three-year campaign to end period poverty, and The Sanitary Products (Free Provision) (Scotland) Bill was voted on at stage three - the final process in legislating for free sanitary products.
The campaign has already been successful in establishing widespread support from colleges and universities, which already provide tampons and sanitary pads free of charge.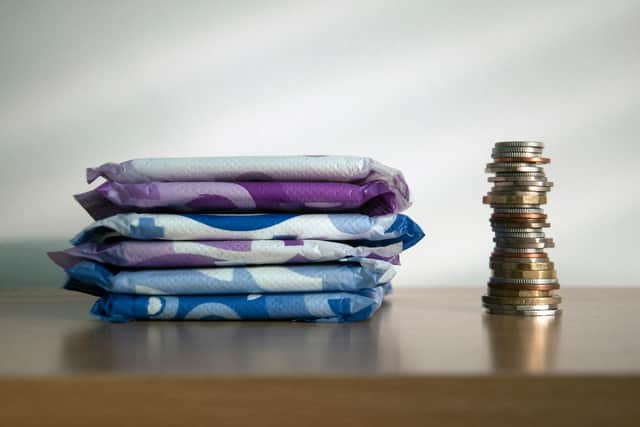 So what is period poverty and why is the bill a historic move for Scotland? Here's what you need to know.
Period poverty is the result of a lack of access to sanitary products to hygienically manage menstruation, usually due to financial constraints.
Monthly periods can be devastating and stigmatising for women and girls who struggle to access sanitary products.
It is estimated that over 137,000 children across the UK miss school each year because they can't afford tampons and sanitary towels.
Research suggests that currently one in 10 school aged girls in Scotland have struggled or struggle to access period products.
What has the campaign involved?
Monica Lennon joked earlier this year that she doesn't want to be remembered as 'the tampon lady', but would accept it if it resulted in a successful parliamentary campaign.
Her three-year campaign has already had success in securing free sanitary products for students in schools, colleges and universities across the country.
Lennon's consultation document was first made available for the public in August 2017 and made reference to how various barriers - including domestically violent relationships, homelessness and health conditions such as endometriosis - can lead to a state of period poverty.
The Sanitary Products (Free Provision) (Scotland) Bill was first introduced in the Scottish Parliament in April 2019.
There were three key aims of the bill:
- ensure that period products are made available free of charge on a universal basis;
- require education providers to make period products available free of charge in on-site toilets; and
- place a duty on other specified public service bodies to provide free period products
The 'universal' provision of sanitary products had been contested in parliament, with some suggesting it should only be made available to low income females and those who experience endometriosis.
However, Lennon argued this would only seek to further stigmatise and hinder the awareness and normalisation of the inevitability of periods.
What happened during the vote?
The bill was voted on at stage three on 24 November, the final stage before being written into legislation, and it was approved by 121 votes to none.
Ms Lennon said: "This Parliament can be a force for progressive change when we collaborate."
Although the debates have not been supported fully by all members of the parliament, the bill garnered unanimous support from all parties when it was voted on.
Where will free sanitary products be available?
In Scotland, there will be a legal right of free access to tampons in public buildings, and it will be mandatory for education institutions to provide them.
The provision of free products is expected to cost about £8.7million a year.
Schools, colleges and universities will be legally bound to provide adequate amounts of tampons and sanitary pads, as well as public buildings such as libraries, courts and hospitals.
What has Monica Lennon said of the issue?
Following the vote, Lennon said: "On the issue of period dignity, I am beyond proud that Scotland is leading the way and we have moved at a fast pace in a short space of time.
"We have got here because we have worked together. We have shown that this Parliament can be a force for progressive change when we collaborate.
"Our prize is the opportunity to consign period poverty to history. In these dark times we can bring light and hope to the world this evening."
She added that periods do not stop because of a pandemic, which is thought to have only exacerbated the issues leading to period poverty.
Lennon has described the move towards "ending the stigma" as "world-leading" and "ground-breaking".
However, throughout the campaign she has also called for the bill to go one step further in providing "menstrual education" in schools, and she will now work closely with trade unions to "improve period dignity in all workplaces".
The MSP has been a member of the Labour party for 10 years and was elected in 2016, and was then appointed spokesperson for inequalities by former Scottish Labour leader and friend, Kezia Dugdale.
In October 2018 she was appointed Labour spokesperson on Health by leader Richard Leonard, and during her time campaigning she had told how she is 'lucky enough' never to have been affected by period poverty.
However, she stressed this is no excuse to ignore the issue as she is aware of the crippling impact it can have on women and girls and her young teenage daughter is one reason she has felt inspired to pursue the issue.
In the run-up to the debate, the Labour Health spokesperson said: "This is a bold and ground-breaking piece of legislation. I hope it will inspire other countries to follow our lead and normalise the notion that period poverty just isn't acceptable."