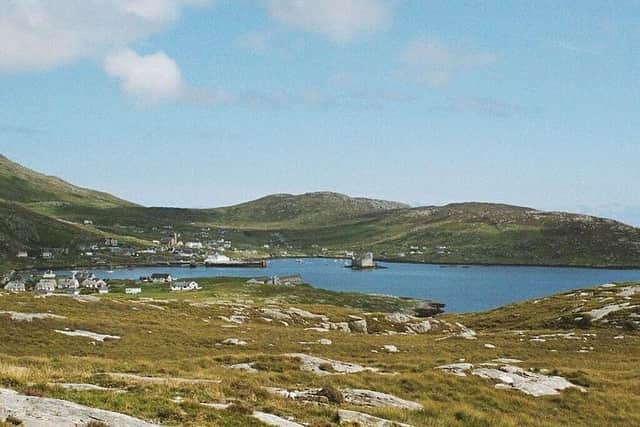 Castlebay, Barra
But for some communities, like the Isle of Barra in the Outer Hebrides, this has so far be more in theory than in practice, with restrictions in place and very real concern about the pandemic, but no major outbreaks reported.
This changed on January 13, when three cases were announced. This grew to 10 on Thursday, and the situation is now "rapidly developing", according to NHS Western Isles, with just under 90 people told to self-isolate, not far below 10 per cent of the island's population.
Canon John Paul MacKinnon, of Barra Catholic Church, said islanders have been "waiting" for the virus for 10 months.
"It was always going to come," he said.
Most islands are in level three restrictions as a result of fewer cases, but this week Barra has entered a local shutdown.
Schools have been closed, hospital visiting suspended, and the few shops have reduced their opening hours and set up phone order systems.
It's a familiar tune for mainlanders in level four, but many on the island are "scared and very wary of how to proceed", in the words of Castlebay Post Office.
People in Barra are "anxious" about the situation, said MSP Alasdair Allan.
Another island resident, who didn't want to be named, said the outbreak has caused "quite a bit of anxiety" among locals, especially because of the need for serious cases to be airlifted out, with aircraft needing to travel some distance, perhaps in adverse weather.
"In a community that size, where you have one major shop selling food, you have one airport, you have a very, very limited range of public health services on the island, the nearest major town is five hours away by sea… an outbreak in a community like that creates its own concerns and anxieties," said Alasdair Allan, MSP for Na h-Eileanan an Iar.
"If you get seriously ill in Aberdeen or Edinburgh, there's a major teaching hospital you can go to," he said.
"But if you get seriously ill in the Outer Hebrides, there are excellent health facilities, but for serious matters you will have to be airlifted out of the place. I think people are very conscious that that creates a need for greater vigilance than other places."
Covid-19's appearance on Barra has come as an "abrupt wake-up call", said local GP Dr Mark Willcox, "that our remote location is no protection against this wretched virus".
"For most people with the virus it is an unpleasant experience but one which doesn't require hospital treatment. For a few however, hospital care is required. These are the occasions where Barra's remoteness proves challenging," he said.
There have been other outbreaks in the Western Isles – the largest on Uist of 56 cases. Ferries are still operating a reduced service from the mainland, and there was a major drive at the beginning of the pandemic to ask tourists to please stay away.
It seems to have worked, according to Gordon Jamieson, Chief Executive of NHS Western Isles.
There has been "a lot of anxiety" about tourists, he said, but so far no outbreak has been attributed to them, rather the source of cases has been people travelling to the mainland and bringing the virus back.
A photograph taken in March last year showing a row of sparse camp beds set up as a Covid-19 facility in Castlebay village hall was widely shared on social media to accompany the plea for tourists not to visit.
Mr Jamieson said while this was useful for getting the message across, it didn't represent the facilities available, and has since been dismantled.
It was intended only as a holding area, perhaps for people who had been tested to wait for results, he said.
The island has a five-bed hospital, but that too, can only be used in an emergency, as in practice admitting a Covid-19 case would force it to close.
Instead, people who have tested positive are asked to stay at home to recover, and those who deteriorate must be flown off the island – to Stornoway, or to the mainland.
"It's one of the vulnerabilities and the risks that very remote island communities face," said Mr Jamieson, adding that the island has "very established mechanisms" for getting people airlifted off by coastguard or Royal Navy Helicopter.
One of the current positive tests has been evacuated to Stornoway, while another is in hospital on the mainland.
Barra is entering a "critical few weeks" headteacher of Eoligarry primary school Suzanne Foreman told locals on Facebook, asking people to only children to school if they are vulnerable, or the children of key workers.
But despite the "rapidly developing" situation, as NHS Western Isles calls it, Canon John Paul Mackinnon, who has cancelled Mass as a precaution, said there is not an undue sense of anxiety in the community.
"We've been very fortunate here for ten months not to have had it, but we've been waiting," he said.
"It's a small world, and a small country of Scotland, it was always going to come.
"The only concern is that we want it to go as quickly as it came, so people are just isolating."
He added: "Talking to parishioners, they're just quietly getting on with it and they hope it will just quickly go as it quickly came. We're not too overly worried about it.
"I just want to encourage people to stay at home. We'll get through these two weeks and please God it will all be ok, and we'll just carry on again afterwards."
A message from the Editor:
Thank you for reading this article. We're more reliant on your support than ever as the shift in consumer habits brought about by coronavirus impacts our advertisers.
If you haven't already, please consider supporting our trusted, fact-checked journalism by taking out a digital subscription.