Virus robs two-year-old Scottish girl of stem cell lifeline
It looked like the prayers of one young Scottish family had been answered when their daughter was granted the "golden ticket" of a lifesaving stem cell transplant.
But, in the cruelest of circumstances that debt of gratitude to a selfless stranger, has now been put on hold for the foreseeable future after a chain of events that started nearly 5,000 miles away - put paid to their short-term dreams.
Two-year-old Adeline Davidson had already began treatment for the transplant that would prolong her life, when a routine throat swab uncovered she had the common cold and the operation was put on hold for a couple of days.
However, in that "couple of days" the entire world was to turn upside down, gripped by the deadly coronavirus pandemic that swept through nation after nation before finding a foothold in Scotland.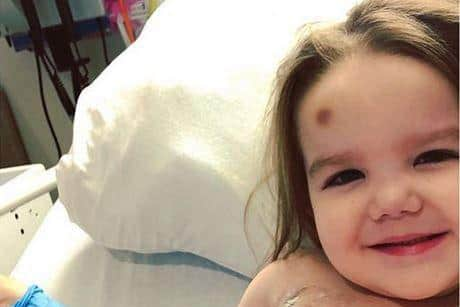 Adeline was diagnosed with myelodysplasia (MDS) an extremely rare form of blood cancer that affects only one in 250,000 children – where your bone marrow doesn't make enough healthy blood cells.
Mother, Stephanie Davidson, from Inverness, who also has one-year-old twins Jude and Josie said she and husband Jordan were geared-up for the operation that was to take place at the Royal Hospital for Children in Glasgow.
She said: "We were so relieved when we heard that there was a match for Adeline, there were no words really – this person who doesn't even know Adeline was giving her a second chance at life. It was the best news ever, and we just wanted to get on with it.
"We were all ready for the transplant to start, but doctors took a throat swab from Adeline and found she had a common cold so we had to wait a few days for that to clear up.
"But in those few days, the coronavirus situation completely blew up and we were told the transplant was no longer going to go ahead.
"The transplant has been delayed for the foreseeable so we just have to wait and keep Adeline healthy because if she contracts any illness and has to be admitted to hospital, she's at high risk of infection.
"She needs the transplant to live a normal life.
"We are a little fearful because of the delay and what this means for her future."
Mrs Davidson is urging people to still register with blood cancer charity DKMS who have launched an urgent appeal for lifesaving stem cell donors, with applications down by 50 per cent compared to this time last year.
She added: "We're begging people to still register with DKMS if you can.
"It's more important than ever that people continue registering during the pandemic.
"With the NHS overwhelmed by Covid-19, there'll be an even bigger need for transplants when the pandemic is over.
"It's an incredibly good deed you can do while still following the rules around social distancing. Please sign up today and go on standby as a lifesaver."
In the UK, blood cancers are the third most common cause of cancer death.
For most people there is no single cure. However a blood stem cell donation from a genetically similar person can offer the best treatment.
With only 1 in 3 people with a blood cancer (and in need of a transplant) finding a matching blood stem cell donor within their own family – 2 in 3 must rely on a stranger to register.
Comments
 0 comments
Want to join the conversation? Please or to comment on this article.