Urgent action needed to stop spread of Covid-19 between hospital workers, warns RCS Edinburgh
Urgent action is needed to stop the spread of Covid-19 between hospital workers in order for vital operations to continue, the Royal College of Surgeons (RCS) Edinburgh has warned.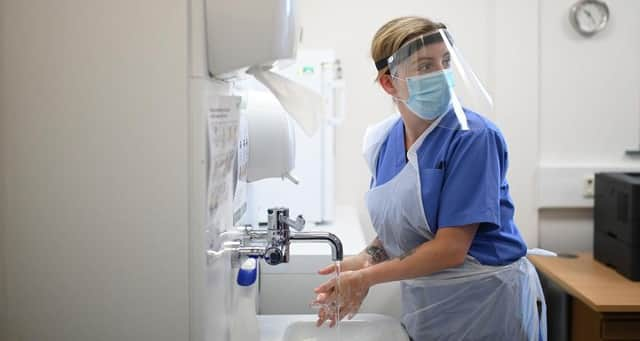 The college, which represents 15,000 members across the UK, expressed concern over a recent rise in cases transmitted between staff members in hospitals, due to "lack of infrastructure to enable social distancing and inadequate testing of staff".
In a small-scale survey of 240 members across the UK, one in five surgeons said no measures had been put in place to allow social distancing in non-patient areas where hospital staff interact.
These are areas where staff do not wear full PPE, such as canteens or staff rooms.
Only 26 per cent of respondents said there were social distancing measures in all non-patient areas, and 32 per cent said they felt unable to safely socially distance from colleagues in such areas.
Testing of hospital staff was also highlighted as a major concern, as 87 of surgeons who responded said they are not being tested regularly, and 63 per cent said they think the level of staff testing in their hospital is not satisfactory.
He said: "If we are to maintain crucial services such as diagnostic testing and cancer surgery at this stage of the pandemic, these measures have to be in place to protect healthcare workers and patients.
"We are on the verge of another crisis point for preservation of elective work, so it is more important than ever that adequate infrastructure is in place to minimise the spread of Covid-19 within hospitals.
"For over six months we have been talking about the importance of 'Covid-free' or 'low risk' hubs, in order to allow crucial operations to take place in designated hospital areas with a minimal risk of the viral transmission.
"However, for these safe spaces to exist, social distancing measures must be in place across all areas, and regular testing of staff must be carried out – but it seems there are many hospitals across the UK in which these steps are still not being taken. As a result, we will continue to see an increase in nosocomial infections and a considerable number of staff absent from the workplace, leaving the NHS without the vital support it needs from its healthcare workers.
"We must not allow ourselves to be in the position where almost all diagnostic tests and surgery are forced to stop once again because of Covid, or there will be a huge rise in avoidable deaths."
The Scottish Government has set up a Covid-19 Nosocomial Review Group (CNRG) chaired by Professor Jacqui Reilly of the NHS National Services Scotland, aimed at analysing hospital transmission in Scotland.
In a meeting in September the group highlighted the importance of testing in hospitals in line with wider government strategy, but noted challenges with testing capacity. The group also concluded that two metre distancing is likely to be more effective than one metre, and said that two metre distancing rules "should be maintained where possible in all health and care settings".
A message from the Editor:
Thank you for reading this article. We're more reliant on your support than ever as the shift in consumer habits brought about by Coronavirus impacts our advertisers.
If you haven't already, please consider supporting our trusted, fact-checked journalism by taking out a digital subscription.