Unpaid carers are at 'breaking point' during pandemic, charity warns
More support and recognition is needed for unpaid carers who are at "breaking point" as a result of the Covid-19 pandemic, a charity has warned.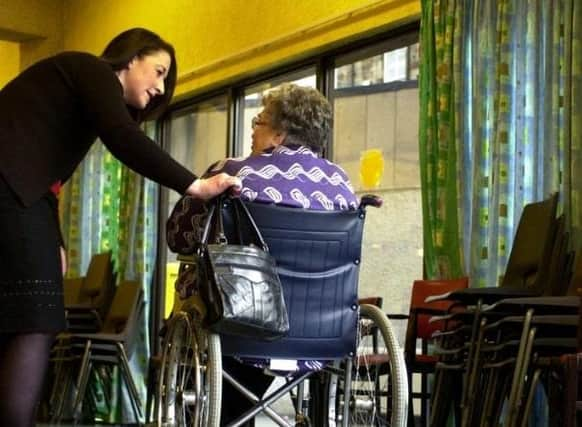 Research from Carers Scotland estimates that the work of unpaid carers looking after older, disabled or seriously ill relatives is worth £43 billion a day during the pandemic.
A survey showed that the majority of carers in Scotland (87 per cent) have taken on more care since March, and that 77 per cent are exhausted and worn out as a result.
The charity called on the Scottish Government to provide extra support for carers over winter and to ensure that support services are reinstated as soon as possible.
Many face-to-face support services such as day centres or support groups have been closed due to the risk of virus spread and the cost of anti-infection measures.
This is going to result in carers breaking down with exhaustion and stress after months of caring without a break, the charity warned.
"Many carers in Scotland are at breaking point and it is vital that the Scottish Government and local partnerships ensure that services they need to sustain caring and their health and wellbeing – are reinstated as soon as possible," said Director of Carers Scotland Simon Hodgson.
We recognise the specific challenges of the pandemic but are clear that, where it is not possible to reinstate traditional services, alternatives should always be offered to ensure that carers do not continue to feel they have been left to struggle on alone.
"The Scottish Government must acknowledge the enormous contribution made by carers during this pandemic – the value of which is a staggering £43 million every single day - and prioritise their health, wellbeing and resilience this winter."
It comes as the Scottish Government held the first virtual Carers Parliament this week. The Carers Parliament has been held annually since 2012, and brings together carers from across the country.
This year the Scottish Government launched a campaign in partnership with actress Jane McCarry of Still Game, urging carers to seek emotional and practical support.
"Carers are juggling a lot between work, family, friends and their caring duties - it's crucial for their own wellbeing that they get the support they deserve," said Health Minister Joe FitzPatrick.
"They may not be aware of what's available to them, or they may not even recognise themselves as carers, but there is support available nationally and locally to help improve their quality of life."
On Thursday Health Secretary Jeane Freeman announced that Covid-19 testing for at-home carers would begin from mid January.
Some carers took to social media to complain of being at the "back of the queue" for testing, a view echoed by the GMB union.
"This is a shameful admission from the Scottish Government. Our members delivering home care services across the country will be outraged to be left at the back of the queue again," said Rhea Wolfson of GMB Scotland's Women's Campaign Unit.
"Covid has exposed how poorly Scotland's carers are valued and [this] statement is the equivalent of kicking an exhausted workforce when they are already down."
A message from the Editor:
Thank you for reading this article. We're more reliant on your support than ever as the shift in consumer habits brought about by coronavirus impacts our advertisers.
If you haven't already, please consider supporting our trusted, fact-checked journalism by taking out a digital subscription.