UK alcohol duty: Will it save lives or will it decimate Scotland's drinks industry?
The UK's new alcohol duty system came into effect on 1 August – but will it "save lives", or will it decimate Scotland's drinks industry?
Making whisky, gins and full-bodied wines more expensive will save lives, according to health campaigners, but industry bosses have warned a new tax increase on Scottish whisky will be a "hammer blow" for distilleries.
The new system will begin taxing all alcoholic drinks based on their alcohol by volume (ABV), replacing four separate taxes covering beer, cider, spirits, wine and other 'made-wine' products.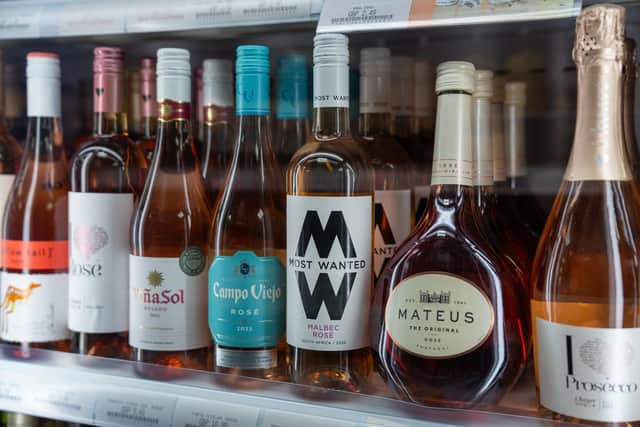 The Scotch Whisky Association (SWA) says the duty rate on spirits will rise to £31.64 a litre of pure alcohol, "meaning that of the £15.22 average price of a bottle of Scotch whisky, £11.40 is collected in taxation through duty and VAT".
However, alcohol duty has been cut or frozen almost every year for the past decade, and health charities such as Scottish Health Action on Alcohol Problems (SHAAP) have welcomed the price increase.
Elinor Jayne, director of SHAAP, which is a partnership of the Medical Royal Colleges in Scotland and the Faculty of Public Health, said alcohol harm in Scotland was a "public health crisis" and stressed the cost of alcohol was a contributing factor.
"These harms are directly related to alcohol affordability," she said. "Sheaper alcohol results in increased consumption, higher levels of harm and ultimately more people dying as a result of alcohol.
"Increasing alcohol duty in line with inflation and basing the system on alcoholic strength will decrease population-wide consumption and therefore reduce the number of people tragically losing their lives to alcohol."
Ms Jayne added: "Today's changes will save lives and raise much needed money for the public purse, which can be used to offset some of the harms caused by alcohol."
SWA director of strategy Graeme Littlejohn said the tax increase on high strength spirits "will continue to fuel inflation" and make it "more difficult for the Scotch whisky industry to invest in growth and job creation in Scotland".
"HM Treasury had a choice to make," he said. "Rather than choosing to back an industry which the UK Government promised to support through the tax system, the Government has chosen to impose the largest duty increase in almost half a century, increasing the cost of every bottle of Scotch whisky sold in the UK by almost a pound and taking the tax burden on the average priced bottle to 75 per cent.
"In a further blow, distillers will now face a further competitive disadvantage in pubs, restaurants and bars by being unfairly excluded from tax breaks available to beer and cider.
"Pubs and other on-trade businesses are about far more than beer and cider. Today's consumers are looking for high quality products when they socialise, often choosing to pay for an expertly crafted drink, but fewer of them when they are socialising.
"Scotch whisky and spirits are at the heart of this trend towards premiumisation, which supports our ambition around moderation while also supporting public finances."
Proponents of raising the cost of alcohol to curb consumption have been buoyed by the apparent success of the Scottish Government's controversial minimum unit pricing (MUP) policy. MUP set a floor price for a unit of alcohol at 50 pence per unit.
According to a meta-analysis conducted by Public Health Scotland, MUP "has reduced deaths directly caused by alcohol consumption by an estimated 13.4 per cent and hospital admissions by 4.1 per cent, with the largest reductions seen in men and those living in the 40 per cent most deprived areas".
The report's authors say this equates to 150 fewer deaths and 400 fewer admissions in 2022/23, using England, which has not implemented a MUP policy, as a control.
The publication of the analysis has already been met with calls to further increase the level of MUP, as the UK's high level of inflation may already have wiped out the effectiveness of the policy. The UK's new alcohol duty effectively will now make high-strength alcohol more expensive, similar to MUP.
Ms Jayne said: "Alcohol affordability is directly linked to consumption, and then consumption is directly linked to the amount of harm that people suffer.
"Basically, we want a combination of the duty system and a minimum unit price to make sure that as many people as possible drink within the low risk guidelines of 14 units per week."
Ms Jayne added: "The alcohol industry in Scotland is doing extremely well and has grown in recent years, so I wouldn't be worried about the impact of duty increases or MUP.
"Especially because when MUP was first mooted back ten years ago, the Scotch Whisky Association and others said this would decimate the industry and businesses would be closing down and none of that has come to pass and the industry, in fact, has grown.
"So it's really about tweaking the system to ensure that we do the right thing by public health without damaging the economy.
"It is the Scottish Government's role to balance those two things. But at the end of the day, it is the Government's role to look after, or to create, an environment where people can live as healthy lives as possible.
"And one of the ways they can do that is by making sure that alcohol's relative affordability is maintained so that it doesn't become more affordable over time."
Comments
 0 comments
Want to join the conversation? Please or to comment on this article.