'Transformative' blood test can identify cause of fever in children in an hour
It is hoped the new test could tackle the overuse of antibiotics in children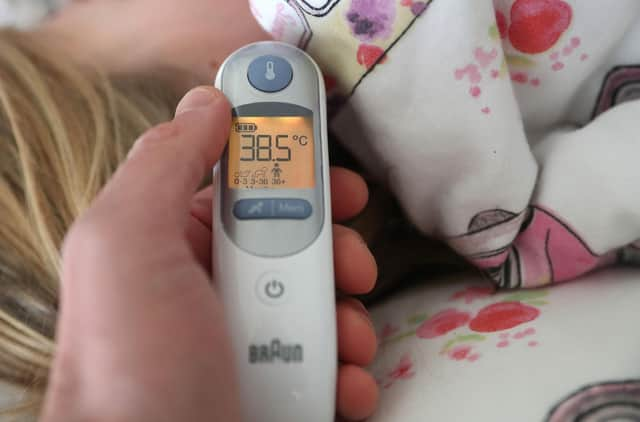 A blood test which could help diagnose the cause of a child's fever in under an hour has been branded "transformative" by researchers.
The majority of current diagnostic tests focus on picking up pathogens and can take 72 hours or more to provide results.
However, a global team led by researchers from Imperial College London has explored the potential to identify how genes in the blood respond to certain infections and diseases to diagnose illnesses faster and tackle the overuse of antibiotics.
Researchers analysed data from 1,212 patients across 18 disease classes, including respiratory syncytial virus (RSV) and tuberculosis.
From this they were able to find which key genes were switched "on" or "off" in response to the illnesses and identify a molecular signature of disease.
Machine learning was then applied to recognise which patterns were related to specific conditions, focusing on 161 genes.
This was tested on 411 children admitted to hospital with sepsis or severe infections caused by 13 of the 18 diseases.
Researchers said the findings, published in medical journal Cell Press Med, provides a "proof-of-concept for the method, showing it works", and using a test based on gene expression "could drastically improve the diagnosis of childhood diseases, reduce delayed and missed diagnoses, and have a significant impact on healthcare, especially in developing regions".
It is hoped the new test could tackle the overuse of antibiotics in children, which are usually prescribed until an antibacterial infection can be ruled out.
Professor Michael Levin, chair of paediatrics and international child health within Imperial College London's department of infectious diseases, said: "Despite huge strides forward in medical technology, when a child is brought into hospital with a fever, our initial approach is to treat based on the doctors' 'impression' of the likely causes of the child's illness.
"As clinicians, we need to make rapid decisions on treatment, often just based on the child's symptoms, information from the parents, and our medical training and experience, but we may not know whether a fever is bacterial, viral, or something else until hours or days after a child has been admitted, when their test results come back.
"Such delays can stop patients getting the right treatment early on, so there is a clear and urgent need to improve diagnostics. Using this new approach, once it's translated to near point-of- care devices, could be transformative for healthcare."
Dr Myrsini Kaforou, a senior lecturer in Imperial College London's department of infectious diseases and co-author of the paper, said: "This body of work has enabled us to identify the molecular signature of a wide range of diseases based on 161 genes, out of thousands of genes in the human genome.
"By distinguishing between many diseases at the same time within the same test, we have developed a more comprehensive and accurate model that aligns with the way clinicians think about diagnosis.
"With this initial proof-of-concept study, we've been able to show that our multi-disease, machine-learning diagnostic approach works. This kind of advance is only possible through interdisciplinary collaboration and large research consortia, which bring together expertise from infectious disease, molecular science, and bioinformatics."
Dr Kaforou said there is "still much work to be done" to progress the test into clinical settings, but the team is "working towards it".
She added: "A future diagnostic test based on this approach could help provide the right treatment, to the right patient, at the right time, while optimising antibiotic use and reducing lengthy time to diagnosis for inflammatory diseases."
The team's work was funded by the European Union's Horizon2020 programme, Wellcome Trust and the Medical Research Foundation, and was supported by the NIHR Imperial BRC.
Patients for the validation cohort were recruited as part of the European Union Childhood Life-threatening Infectious Disease Study.
Comments
 0 comments
Want to join the conversation? Please or to comment on this article.