Dr John-Paul Loughrey, vice-president of the Royal College of Emergency Medicine Scotland, said pressures on the NHS were no longer confirmed to winter as new figures showed thousands of Scots have been left "high and dry" in waiting rooms while delayed discharge remains at high levels.
Statistics published by Public Health Scotland show 14,419 people waited over eight hours to be dealt with at A&E departments in the month ending March 31. Of them, 6,094 patients were stuck waiting for over 12 hours.
Additional figures have revealed more than 400,000 operations have been cancelled across the NHS in Scotland since the start of the Covid pandemic.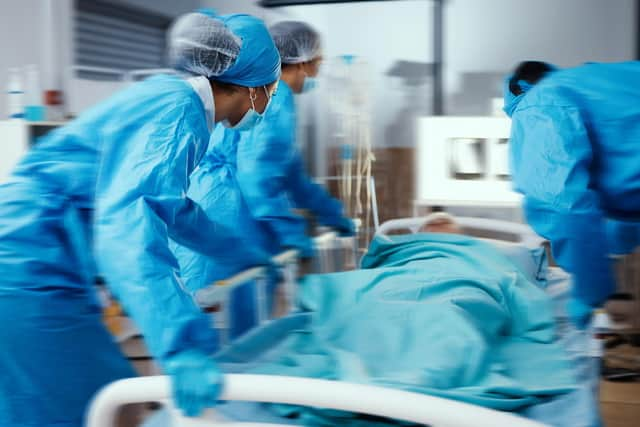 Appearing before the Scottish Parliament's health and social care committee, Jeff Ace, chief executive of NHS Dumfries and Galloway, spoke about the "quite extraordinary" circumstances his health board – and the wider NHS – is facing.
Mr Ace told the committee that NHS Dumfries and Galloway would have a deficit this year "for the first time this century", and warned "real difficult decisions" would have to be made on top of efficiency savings.
He said the health board was aiming to make efficiency savings of 3 per cent, which would be "right up there at the historic high levels the system has ever achieved".
"That is not enough, it doesn't bridge the gap – indeed the gap continues to grow," he said.
Mr Ace said every Scottish health board was "reporting real difficulties" with their finances, adding: "That's not how Scotland has been over the past decade. It has been difficult, but it has not been as it is now and as it appears it is going to be."
On his own health board's financial outlook, Mr Ace told the committee the scale of the gap in funds was such that "if I was to turn it into workforce, I technically can't afford one in ten of my workforce, but clearly I need all of those people and more to deliver the service demands we are facing". He added: "The financial challenge, I would want committee members to be aware, is quite extraordinary at the moment.
"I have worked in the NHS since the '80s. I am a finance director by background, I have never seen a position as challenging as this."
Mr Ace said there was a need to be "radical" in redesigning services given Scotland's aging population.
Without this, he said: "I fear that the scale of the gap, the financial challenge, will force us into the sort of service cuts and reductions none of us want to see."
He said NHS leaders and politicians had to be "very bold in our models for what we see as being the right health and care service for Scotland" and must also start "engaging with our population about those big changes that are needed".
Meanwhile, statistics show a month-on-month increase in the number of bed days lost to delayed discharge, with level remaining far higher than pre-pandemic levels.
During the first three months of this year, 162,604 days were spent in hospital by people whose discharge was delayed – a 26.9 per cent increase on the same period in 2019.
BMA Scotland has repeatedly said the NHS crisis cannot be resolved without ending delayed discharge, with the organisation's chair, Dr Iain Kennedy, saying: "The key to unlocking the front door of our hospitals lies at the back door.
"The exit block is the real reason for many of the issues at the front door of our hospitals."
Dr Loughrey said: "The data show another drop in performance. This means more patients facing longer waits, more delays to care and more harm. We cannot continue to see this occur, we need to be seeing improvements in performance and a reduction in delays to care.
"This is a signal that the current interventions and actions are not having the time critical impact that we need to be seeing. The Scottish Government needs to understand that hesitancy to take the necessary actions will impact on the safety of patients and their care.
"Emergency care is not functioning as it should. No patient should face a 12-hour wait in an emergency department.
"We know what needs to be done – ensuring social care is responsive and able to support the timely discharge of patients; expanding acute bed capacity across Scotland; retaining existing staff while recruiting more staff into emergency medicine."
Dr Loughrey added: "We cannot consider this to be winter pressure anymore. This is year-round and it continues to cause harm. We must do better for patients and staff. There is no time to delay."
Scottish Labour's health spokesperson Jackie Baillie said: "[Health secretary] Michael Matheson inherited an NHS in crisis from Humza Yousaf – but it is all too clear that he is failing to get the situation under control.
"That nearly 40,000 people have waited over eight hours in A&E this year is simply appalling. Lives are at risk due to this SNP Government's chronic failure to support frontline NHS staff.
"More of the same failure simply won't cut it – it's high time we got this deadly crisis under control, fix delayed discharge and invest in primary and social care to take the burden off of A&E.
"Matheson must act now to support heroic NHS staff and end this NHS crisis once and for all."