'Thousands of unpaid carers will start to suffer' under Scottish Government's discharge plans, says carer
An unpaid carer has criticised the Scottish Government's plans to move discharge patients from hospitals into community care settings, saying thousands like him will "start to suffer" as more pressure is heaped on them.
Cameron Laing, 69, from Ellon, Aberdeenshire, cares for his wife, who suffers from "both serious mental illness and a degree of cognitive impairment".
However, because Mr Laing wants to keep his wife at home, where he feels she is better cared for, he said he felt routinely let down by local authorities – and the situation is taking its toll on his health.
"I prefer to care for her at home," he said. "This is both good for my wife and saves the NHS and local council a fortune. I appreciate very much the support I get, but the truth is that it falls far short of what is promised."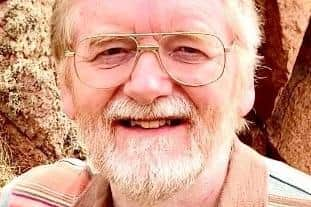 As well as affecting his sleep and mental health, Mr Laing said the long hours taking care of his wife's medical needs "physically begins to take a toll".
"On paper, the support available is tremendous," he said.
"We are allocated a number of hours per week of care support, and on paper, there's a good number of weeks through the year where I can get a complete break and be myself again for a while. But this isn't happening, that's the problem."
Mr Laing said the Scottish Government's plans to free up beds in hospitals by using community care beds was robbing unpaid carers of the chance to access support and respite in an already challenging role.
In January, health secretary Humza Yousaf told MSPs the Government had identified 300 care home beds that can be secured to allow patients to be discharged from hospital.
Scotland's Health and Social Care Partnerships (HSCPs) will share £8 million in funding to procure beds at 25 per cent over and above the standard National Care Home rate for beds. This is in addition to around 600 interim care beds already in operation across the country.
Mr Laing said: "Moving 'bed blocking' – or more correctly, 'care system failed' – patients from hospitals to care homes is a political sleight of hand. It is no more a solution now than it was when Covid struck.
"While posing as a solution, it simply shifts the problem on to a more vulnerable, less vocal, segment of the population.
"TV images of patients in A&E corridors fade away, but, out of sight of cameras, thousands of unpaid carers dispersed around the country will start to suffer. The excess deaths will stay with us – just different people."
In response, Mr Yousaf said delayed discharge was "one of the most significant issues our NHS is facing".
"Interim beds are widely used across the country by HSCPs to help ensure patients receive the most appropriate level of care for them," he said.
"Patients will only be discharged if it is deemed safe, and clinical risk assessments have been carried out considering the capacity of social care and social work and the potential impact on families or carers of patients.
"Reducing the number of people who no longer have a clinical need to be in hospital is better for them, improving their chances of being able to return home, or to a homely setting."
Comments
 0 comments
Want to join the conversation? Please or to comment on this article.