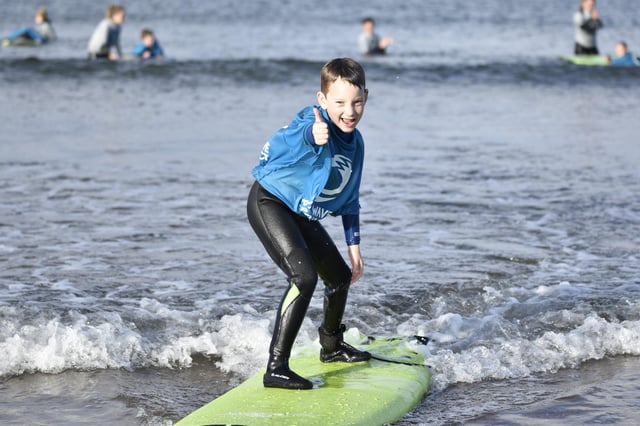 A participant in one of the Wave Project's current programmes.
The Wave Project, set up in Cornwall in 2010, was the first government-funded surf therapy school in the world.
Ten years later it has expanded across the UK, including to Dunbar, and is now set to open an outpost in St Andrews in May.
The surf centre, based at the town's West Sands, will rely entirely on donations, including £20,000 raised by St Andrews University students.
Eilish Balharrie, 12, said she has benefited from the programme.
Charity founder Joe Taylor himself a former St Andrews student, is particularly pleased to be able to bring the charity he has built to his former student town.
The idea of "surf therapy" was initially controversial, Mr Taylor said, especially as the project was initially funded by the NHS.
"But actually after we demonstrated the benefit of it to young people, it's emerged as a very cost effective way of helping children," he said.
Children must be referred to the charity by a third party.
Joe Taylor, founder of the Wave Project
Many of them have spent time in care, or may be struggling at school, experiencing depression or anxiety, or disabled.
The Wave Project offers them six weekly one-hour sessions, in which children surf one-to-one with a mentor.
They can then take part in a more long term "surf club".
"A lot of those who we work with are really not engaging with other services," said Mr Taylor.
"People try to get them to do things, and they just don't want to, the children don't respond to adult-led interventions.
"That's what our approach has always been, it's something the children actually do want to do and that they find fun and engaging.
"And then what we find is that they start to engage with the other people around them, the mentors or the other children, and they build trust with those people, and from that point we start to see some of the emotional benefits emerging, they become more willing to talk about their problems."
Eilish Balharrie, 12, was referred to the Wave Project in Dunbar two years ago after experiencing long-term health problems.
She was "really shy" when she first started, but now has more confidence at school and finds it easier to make friends.
"There's a lot of help in the water, people don't care who you are. They just want to make friends," she said.
The programme has been "amazing", said Eilish's mother Angela, who also volunteers with the project.
"Being in the water makes her feel like she's just like the other kids in that environment."
Ms Balharrie added that the Wave Project allows Eilish to go surfing in an environment where her mother knows she will be looked after, while staff at a standard surf school may not have the expertise or resources to do so.
Stephen Stewart, St Andrews Director of Sport, said it was "very pleasing" to see students fundraising for the Wave Project.
"We hope this is the start of a more sustainable and long-term association between Saints Sport, The Wave Project and other water-based organisations and future initiatives in St Andrews," he said.
A message from the Editor:Thank you for reading this article. We're more reliant on your support than ever as the shift in consumer habits brought about by coronavirus impacts our advertisers.
If you haven't already, please consider supporting our trusted, fact-checked journalism by taking out a digital subscription.