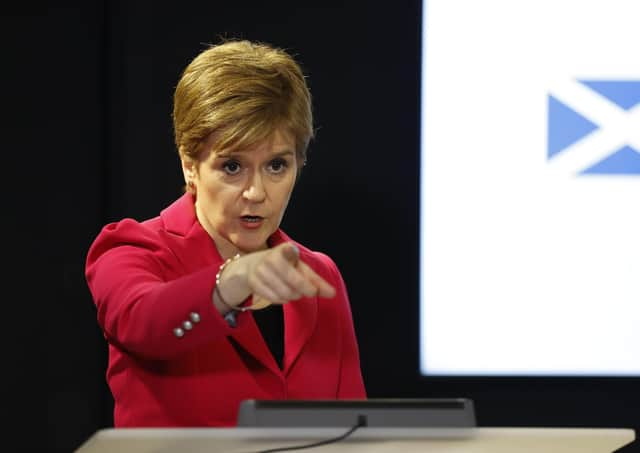 Scotland's First Minister Nicola Sturgeon spoke at a news conference in Edinburgh after the latest COBRA meeting to discuss the government's response to coronavirus crisis. Picture: PA
It came after a UK Government source was quoted saying that the First Minister was a "total disgrace" for holding a press conference an hour before Boris Johnson.
"This is a nationalist politician playing populist politics with a global crisis," the source was quoted as saying.
SNP MP Stewart McDonald posted on twitter that political opponents should "stop seeing imaginary enemies",.
Scottish Conservative leader Jackson Carlaw added: "Both the Prime Minister & the First Minister have convened relevant, measured and appropriate media conferences updating respective populations on Coronavirus and immediate consequential actions. This is neither a competition nor a subject for unnecessary squabbling by others."
The Scottish Government issued a calling notice just after 11am yesterday inviting journalists to a 3pm press conference at 3pm featuring Ms Sturgeon after the COBRA meeting
The Tory MSP Adam Tomkins said critics were "seriously missing the point".
"For the love of God let's not make this, too, into a constitutional process story," he posted on twitter.
Asked why he was taking a different approach by not banning gatherings of over 500 people, Mr Johnson said that Ms Sturgeon's decision was down to the "resilience" of public services in Scotland.