Scottish hospitality groups call for accelerated route out of lockdown to boost economy
Five major hospitality trade bodies have urged the Scottish Government to alter its levels system of lockdown and mirror the planned easing of restrictions in England as closely as possible, in a move they argue would save over 60,000 jobs and contribute more than £1.2 billion to the economy in the short term.
The Scottish Hospitality Group (SHG), UK Hospitality Scotland, Scottish Licensed Trade Association (SLTA), Night Time Industries Association (NTIA) and the Scottish Beer & Pub Association have called on the government to abandon its "data, not dates" approach based on public health markers.
They have demanded a move to a nationwide easing provisionally hooked to specific dates, as has been set out in England by Boris Johnson.
Under the industry proposals, Scotland would enter level three from April 26, with a move to a lower level every three weeks until level zero was reached at the end of June.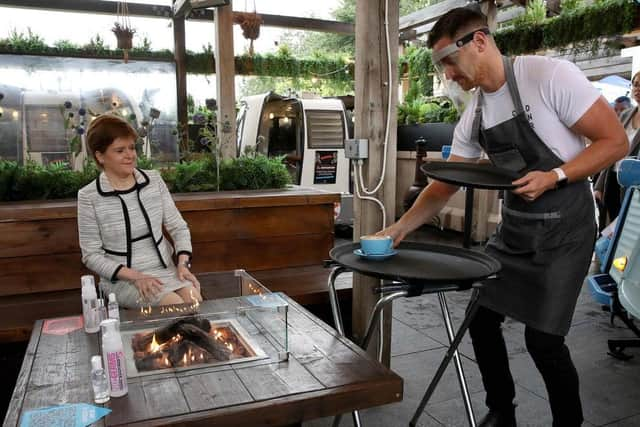 The group has also proposed changes to the levels system, including the relaxation of curfews and the service of alcohol only with a meal.
The concerted push comes after the UK's national statistician said on Sunday he had "no doubt" there would be a further wave of Covid-19 infections in the autumn.
Professor Sir Ian Diamond, head of the Office for National Statistics (ONS), told The Andrew Marr Show there was a "lot of regional variation" in terms of how many people had been affected by the virus.
The alliance of hospitality groups wants social distancing restrictions to be removed in venues from as early as June 28.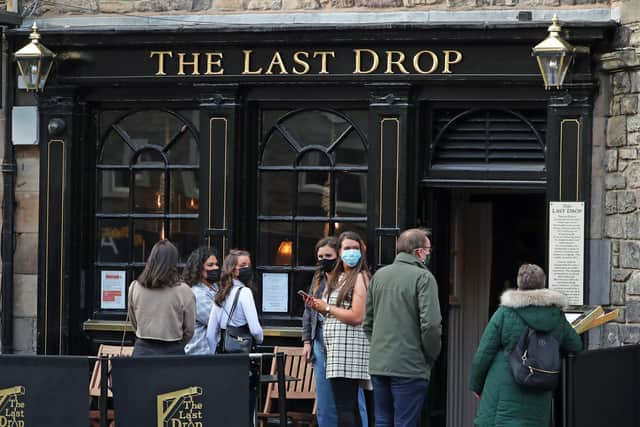 Emma McClarkin, chief executive of the Scottish Beer and Pub Association, said: "Our industry has been devastated by the pandemic and the recovery won't truly begin until Scotland's pubs are fully reopened.
"We cannot afford to delay the recovery and endanger the future of the industry, which is vital to Scotland's economy.
"Our hope is that Scotland will follow close to the unlocking plans in England, which would help ensure our businesses are not a competitive disadvantage.
"However, should the Scottish Government remain wedded to a regional levels approach, then our joint plan would see an additional £658m in turnover and support an extra 31,400 jobs in level three compared to the current system."
The group presented research from economic consultancy firm BiGGAR Economics, commissioned by Diageo, which found that under the previous level three framework 54 per cent of hospitality businesses in Scotland could operate, generating a £269m turnover and supporting almost 22,000 jobs.
Under the suggested level three, they said, 73 per cent of businesses could open, with a turnover of £927m and 53,300 jobs.
The study showed the proposed changes "can place the hospitality sector and the wider food and drink supply chain in a much stronger position", according to Graeme Blackett, director of BiGGAR Economics.
"Adjustments to the restrictions could get thousands of people back to work and allow the sector to generate turnover and contribute significantly to the public finances in the coming weeks and months."
First Minister Nicola Sturgeon has said she hopes to begin easing the current lockdown on April 26, with a return to the system of different levels being applied in different areas.
Under the existing framework, level three allows the reopening of restaurants, cafes, pubs and bars indoors and outdoors. Food and drink can be served, but not alcohol, and venues must close by 6pm.
In level two, venues can open indoors until 8pm, with alcohol served only with a main meal. Outdoor areas can be opened until 10:30pm, with customers able to drink without ordering food.
The hospitality groups propose a scrapping of curfews, allowing pubs and restaurants to open indoors and outdoors until 10:30pm under both levels two and three.
They also call for alcohol to be served in level three, and for a removal of the requirement to order food with alcohol indoors in level two.
"Changes need to be made if this important sector to Scotland's economy is to survive, continue to provide jobs, contribute to the public purse and restart the important role it plays in local economies and the fabric of the community," said Colin Wilkinson, managing director of the SLTA.
Mike Grieve, chair of NTIA Scotland, said: "We strongly urge the First Minister to act on the proposed revised levels as outlined in the Hospitality Joint Association letter and to engage in discussions with the group to find solutions appropriate to the needs of all hospitality businesses as a matter of urgency.
"The priority must be to set a clear road map out of lockdown as vaccination levels rise and hospitalisation rates drop, and to aim for full reopening of the sector at level zero with the complete removal of all trading restrictions, including social distancing, restricted capacity, restricted trading hours, curfews and restrictions on entertainment, performance, music and dancing."
A Scottish Government spokesperson said: "No one wants lockdown restrictions in place for a moment longer than necessary and we are engaging with businesses and organisations from across the tourism and hospitality industries on a range of issues, including on the gradual easing of measures.
"It is necessary to be cautious and careful in our approach at this time and to prioritise education in the first instance.
"We will provide a firmer indicative timetable for re-opening the economy, including shops, hospitality, hairdressers, gyms and parts of our tourism sector this week."
Ms Sturgeon will set out further detail on Scotland's route out of lockdown tomorrow, following an initial announcement on February 23.
The First Minister has previously said the easing in Scotland would have "broad similarities" with that in England, but it would not be exactly the same.
The Scottish Government has so far given fewer fixed dates in its lockdown easing than the UK Government, advocating a "data, not dates" approach based on metrics such as transmission, outbreaks and importation of cases from abroad.
A message from the Editor:
Thank you for reading this article. We're more reliant on your support than ever as the shift in consumer habits brought about by coronavirus impacts our advertisers.
If you haven't already, please consider supporting our trusted, fact-checked journalism by taking out a digital subscription.
Comments
 0 comments
Want to join the conversation? Please or to comment on this article.