Scottish Covid-19 inquiry: Care home residents like 'exhibits' due to Covid visiting rules, inquiry told
Families spoke as the inquiry began hearing evidence today
Care home residents were compared to "exhibits in a reptile house" because of Covid restrictions limiting visits, a lawyer representing families told the Scottish Covid-19 Inquiry as it began on Tuesday.
Amber Galbraith KC was speaking on behalf of Care Home Relatives Scotland (CHRS), one of the core participants of the inquiry, and gave an opening statement in Edinburgh.
Chaired by Lord Brailsford, it will investigate the response by the Scottish Government to the Covid-19 pandemic.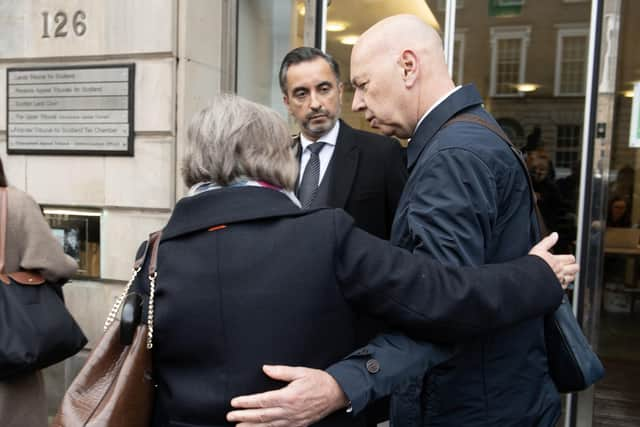 The first phase of hearings will look at the health and social care impacts of the pandemic while later phases will look at education and young people, business and financial and welfare support.
Ms Galbraith told the inquiry residents in care homes suffered an "unnecessarily disproportionate" impact on their lives which left them feeling "isolated, unheard and discriminated against".
The lawyer relayed a story where a member of CHRS sat two metres away from her mother and "watched as she was physically restrained" from walking towards her for a cuddle during restrictions in care homes as a result of the Covid-19 restrictions which meant care home residents were not able to touch loved ones while they visited.
Ms Galbraith said: "A carer was able to sit beside her and hold her hand, but not her daughter. What is that, if not discrimination?
"Why were carers considered less of a risk to health than parents or children?
"Their mental state may have been such that all they knew was being suddenly left with no visits, no touch, not even allowed to see others in the home."
She compared care home residents' experience of restrictions where they may have seen relatives only through a window to being "an exhibit".
She said: "Perhaps they would be paraded out behind glass like an exhibit at a reptile museum or a prisoner."
David Di Paola, a solicitor representing CrossReach, a social care organisation operated by the Church of Scotland, told the inquiry in his opening statement how the sector had already been underfunded as a result of "years of underinvestment".
He criticised the Scottish Government's approach to implementing guidelines and rules.
Mr Di Paola said sector representatives had to intervene to stop rules late on a Friday from coming into place by the following Monday.
The organisation also had issues with sourcing personal protective equipment (PPE) due to the unprecedented demand for it.
Mr Di Paola said some companies were charging seven times more than they generally would.
CrossReach also had incidents when children in their care were prevented from seeing members of their families.
The organisation also suffered "significant financial pressures" such as income shortfalls, a rise in insurance premiums and spending on agency staff.
Later, speaking on behalf of Promoting a More Inclusive Society Scotland, Ms Galbraith said that some families became so worried they considered suicide pacts.
Speaking on behalf of Scottish ministers, Geoffrey Mitchell KC said questions had arisen about whether the suffering was "too great".
He said: "The Scottish Government is well placed to explain the strategic decisions made during that time.
"The Scottish Government is too well aware of the loss and suffering experienced in that (health and social care) sector, and in Scotland as a whole.
"On behalf of the Scottish Government, I would like to recognise that loss.
"This pain, suffering, sacrifice and endurance is recognised, understood and acknowledged by the Scottish Government.
"The Scottish Government understand that legitimate questions arise as to whether the suffering needed to be so great."
Later submissions were made from core participants the Scottish Vaccine Injury Group, Scottish Healthcare Workers Coalition, and Refugees for Justice.
Advocate Joseph Bryce, representing 258 people who either suffered vaccine injuries or were bereaved as a result, said: "The Scottish Government should have prepared the public for the possibility of vaccine injury.
"It was for the Scottish Government to alert vaccine recipients to the possibility of vaccine injury. Group members are often told the physical symptoms are psychosomatic.
"Members of the group have given informal counselling to those suffering from depression and even suicidal ideation."
Mr Bryce also said that no fatal accident inquiry had yet taken place regarding vaccine-related deaths, despite inquests in England.
Representing the Scottish Healthcare Workers Coalition, Andrew Webster KC said the inquiry needed to establish if the Scottish Government took "necessary steps to protect the workforce they sent out to battle the disease", and that healthcare workers had suffered "discrimination".
Mr Webster said: "Healthcare workers served with courage and conviction, they were the people who placed themselves at risk to care for others.
"People are still dying from Covid and suffering from long Covid, not knowing if they will ever return to their former lives and careers. They are the ongoing victims of the pandemic."
He added: "There needs to be accountability for failure and indifference."
Evidence from refugees told how they felt like "animals", and "weren't allowed to talk to other people".
In a statement issued outside the inquiry, Aamer Anwar, lead solicitor for the Scottish Covid Bereaved group, said the inquiry must be "fearless in raising its voice for the truth".
He said: "The Scottish Covid Bereaved demand that all the witnesses who appear at the inquiry must speak with absolute candour and are brutally honest."
The inquiry, before Lord Brailsford, continues.
Comments
 0 comments
Want to join the conversation? Please or to comment on this article.