Mags McCaul, from North Lanarkshire, was diagnosed with a stage three high-grade cancer in August after experiencing bloating and abdominal pain.
After four chemotherapy sessions, the 50-year-old used her life savings to travel to England for surgery after facing a 12-week wait in Scotland.
Her last scan in February showed no sign of the disease but she now lives in fear of its recurrence and wants improvements to treatment options and diagnosis times in Scotland.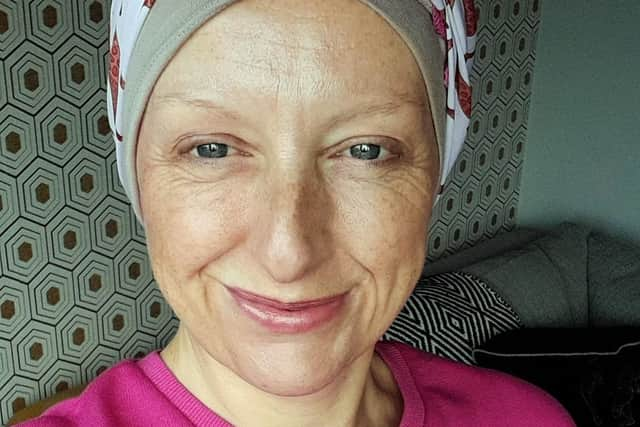 It comes as the Target Ovarian Cancer charity's report revealed that a quarter of those with the disease, which affects around 600 women in Scotland each year, visited their GP three times or more before being referred for tests.
Fewer than half of women were asked about the impact of treatment on their mental health despite the "devastating" impact of the cancer.
The report concluded that progress is possible if the Scottish Government takes urgent action in addressing the shortcomings in diagnosis and treatment.
Ms McCaul said: "There are a number of things that the Scottish Government need to address when it comes to ovarian cancer.
"Access to surgery is an unacceptable issue that affects the overall landscape of care that's being provided in Scotland.
"This needs to change. If my husband and I hadn't used our life savings, I would have only just had my surgery. It's a scary thought."
The charity is calling for a combination of national symptoms awareness campaigns and more training for GPs which will lead to earlier diagnosis.
Symptoms of ovarian cancer also include frequent and new urinary issues, extreme fatigue and unexplained weight loss.
A Scottish Government spokesman said: "Cancer remains a priority in the NHS and we continue to work closely with NHS boards to maximise capacity and ensure people receive their care and treatment as safely and quickly as possible.
"Latest published data (Q4 2022) shows that the median wait for ovarian cancer patients in Scotland is 51 days from urgent suspicion of cancer referral to first treatment.
"We invested £10 million to support boards in improving cancer waiting times in 2022/23 and will shortly publish our new 10-year cancer strategy. This will take a comprehensive approach to improving patient pathways, from prevention and diagnosis through to treatment and post-treatment care.
"The strategy aims to improve cancer survival and provide excellent, equitably accessible care across Scotland."