Scots with rare cancers to test new treatment in first-of-its-kind trial
Cancer patients in Scotland will be among the first to trial a new treatment aimed at those with rare forms of the disease.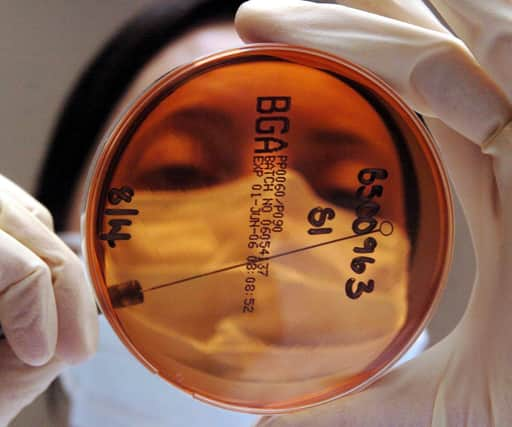 The project, known as Determine, matches people with rare conditions with existing medications already being used to treat other cancer patients.
Trials for adults are set to be held in Edinburgh and children will be treated in Glasgow as part of the UK's first national precision medicine trial for rare cancers.
Cancer Research UK is urging those who may be eligible to discuss the treatment with their clinicians.
Precision medicine matches treatment to a specific patient and is a growing area.
It is expected around 500 to 650 people across the UK will be able to benefit from the five-year clinical trial, and it is hoped it can then be quickly approved to treat other patients.
Medications are approved for use in the NHS to treat specific cancers in specific circumstances, but the success of the trial could lead to them being approved for rarer cancers.
There are currently eight drugs from pharmaceutical companies Roche and Novartis which have been committed to the trial, with more expected to be added as it progresses.
Principal investigator Dr Patricia Roxburgh, of the Cancer Research UK Scotland Centre and University of Glasgow, said: "We are very excited in Scotland to be amongst the first in the UK to offer these targeted drugs to patients with rare cancer as part of the Determine clinical trial.
"We are hopeful that, if successful, patients across the UK will be able to access treatments that have been approved for other types of cancer.
"We are seeking patients with rare cancers or cancers with very specific genetic faults. If you aren't sure, please ask your treating clinician whether you may be eligible to take part in this trial."
The trial is being run by the University of Manchester and managed by Cancer Research UK's Centre for Drug Development.
Sarah Mellor, Cancer Research UK's lead on the Determine project, said: "Precision medicine is an exciting focus for cancer research, and we hope this trial – the UK's first national precision medicine trial for rare cancers – will offer hundreds of patients across the UK the opportunity to access new treatments.
"We are delighted Scottish patients will be amongst the first to have this opportunity which we hope will lead to new, effective therapeutic options for patients with rare cancers."
Last week, it was revealed more than a million lives have been saved over the last four decades in the UK due to advances in cancer care,.
Cancer Research UK said that since the mid-1980s, UK cancer death rates have fallen by around a quarter.
If these rates had stayed the same then 1.2 million more lives would have been lost to cancer, the charity said.
Progress in cancer prevention, diagnosis and treatment have all contributed to the fall in cancer deaths, it said.
Comments
 0 comments
Want to join the conversation? Please or to comment on this article.