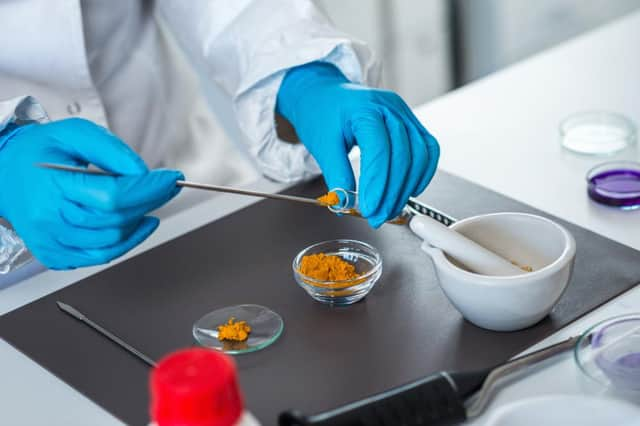 Quality control expert inspecting at curcuma in the laboratory
Scots who have knee osteoarthritis are being urged to explore the latest research for pain relief from this clinical study.
The health benefits of a bioavailable turmeric extract may not only help with pain relief for knee osteoarthritis but could also lessen some of the severe complications from Covid-19 by offering possible protection as an anti-inflammatory agent against viral infection complications.
Turmeric, a spice used in curry, has been used as medicine in India for hundreds of generations. And recently a number of scientific studies have proved that it contains compounds with medicinal properties for pain relief because of its inflammatory properties.
One form of curcumin extract called BCM 95®, currently has the strongest independent data in human trials, having been used in dozens of clinical trials. BCM-95® is an enhanced curcuminoid complex with the essential oils of turmeric which is seven times more bioavailable than standard curcumin. BCM-95® is also known as CURCUGREEN®.
BCM-95® is the most researched bioavailable curcumin in the world with over 70 clinical studies in high impact publications. According to the British Journal of Nutrition "unmodified curcumin is reported to be retained in the blood for two-five hours in humans, whereas retention of a modified form of curcumin (Biocurcumax-95, or BCM-95®) is reported as exceeding eight hours".
The most important of these compounds are curcumin, and its bioavailability, or how easily a substance can be absorbed by the body, may be of interest to the 20 per cent of Scots experiencing chronic pain.
Curcumin has well-established anti-inflammatory properties for any number of chronic health conditions. A 2013 article in Biofactors suggests that curcumin works by suppressing the mechanisms of action that lead to chronic inflammation.
This 2014 study on BCM-95 noted that the "anti-inflammatory effects of curcumin may account for its increased effectiveness in patients with depression and that this nutraceutical may provide a safe and effective treatment for individuals suffering with a major psychiatric disorder."
Curcumin's pharmacological abilities as an anti-inflammatory agent may even be able to help with inflammation caused by Covid-19. In the largest study of its kind to date, the UK's International Severe Acute Respiratory and Emerging Infection Consortium (ISARIC), supported by the UK Coronavirus Immunology Consortium (UK-CIC), has identified new biomarkers of inflammation that both indicate the severity of Covid-19 and distinguish it from severe influenza.
In a study in Science Immunology, clusters of inflammatory disease markers (including two called GM-CSF and IL-6) increase in accordance with COVID-19 severity, giving insights into the causes of severe disease and potentially offering a new focus for therapy.
"We all need the best possible protection against a viral infection and pre-treatment with curcumin may save many people from complications from coronavirus and next winter it would be wise to have a few BCM-95 bottles in everyone's pantry," says Suphil Philipose from BioTurm Limited.
He cites evidence by Dr Pradyut Waghray, a senior consultant pulmonologist to the Indian Armed Forces based in Hyderabad who has 32 years' experience of in this field. In this video, Dr Waghray talks about evidence-based events he has seen in his patients on the role of curcumin in preventing the entry of the virus into the cells, inhibiting the multiplication of the virus and preventing the cytokine storm which can result in rapid worsening and even death of the patient.
BioTurm is keen to invest in further clinical trials and would like to hear from researchers and scientists based in Scotland, particularly to build on the findings published in the American Journal of Geriatric Psychiatry from 2018.
A twice-daily dose of curcumin extract for 18 months improved memory and was linked to changes in two hallmark Alzheimer's proteins, amyloid and tau. This could hold benefits for the brains in healthy individuals over 50 for of its memory benefits.