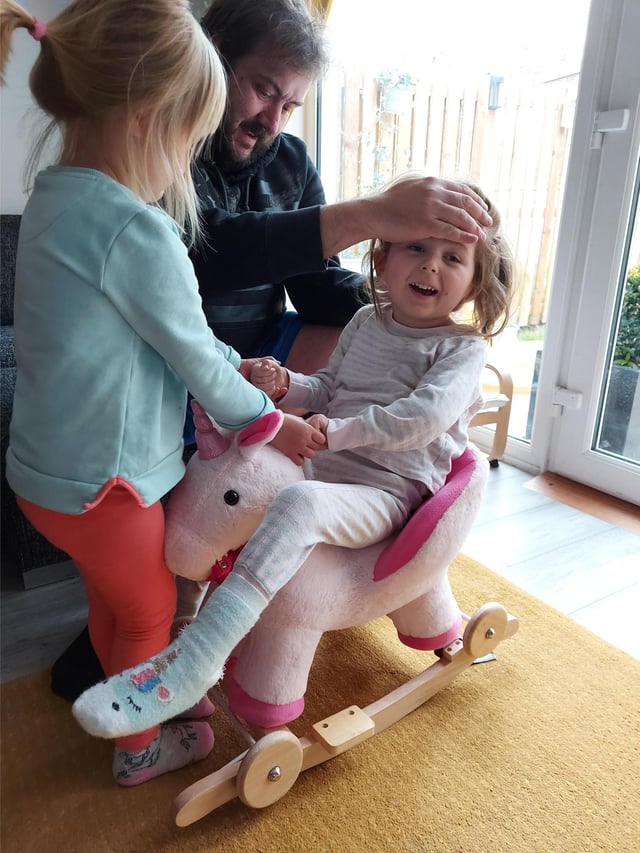 Scarlett playing on her unicorn toy with dad and little sister.
Scarlett Moore had a traumatic arrival to the world in March 2016, having been starved of oxygen due to complications during birth.
Laura and Chris Moore, both 37, knew something was wrong when their daughter, who is non-verbal and unable to walk, repeatedly failed to meet key development milestones.
After two long years of investigations, Scarlett was diagnosed with quadriplegic cerebral palsy and global development relay. She has now received a further diagnosis of epilepsy and has undergone extensive tests at Edinburgh's Sick Kids Hospital.
Scarlett Moore playing in her garden in Galashiels.
"In the back of our minds we already thought she had it," said Mrs Moore "But until you get the diagnosis you are constantly searching. It was a relief in a way because we could start looking at things that would benefit her."
Everyday, Mr and Mrs Moore dedicate two hours to advanced biomechanical rehabilitation (ABR), a therapy that rebuilds the strength, structure and function of Scarlett's body.
"We do two hours of gentle exercises each day using different equipment like small weighted balls and bits of foam, applying pressure to different parts of her body," said Mrs Moore who gave up work to care for her daughter full time.
Before starting therapy Scarlett's hands were constantly balled into tight fists but she has since learned to open and close her hands and can freely reach for and touch objects.
L-R: Olivia Moore, three and Scarlett Moore, five enjoy a day out during lockdown.
The diligent parents are now working on head control and hope that their daughter will be able to lift and support her own head in the future.
But Mrs Moore said they "still have a long way to go" and Scarlett's progress relies heavily on ABR therapy.
To carry out this treatment effectively Scarlett's parents need to consistently monitor and change Scarlett's exercises and require specialist training three times a year.
As the NHS only provides physiotherapy for children with cerebral palsy the family has had to self-fund this pricey treatment, constantly fundraising to make ends meet.
Scarlett Moore was diagnosed with quadriplegic cerebral palsy following a lack of oxygen during birth.
"I never thought I would have to ask strangers to help my child" said Mrs Moore who has been running a Just Giving page to raise cash for years and has carried out numerous bake sales and game nights to fund her child's care.
Exhausted from the constant need to raise extra cash alongside caring for her daughter full time the diligent mum is still determined to do whatever she must to give her daughter the best future possible.
Blown away by the support they have continued to receive from family, friends and even strangers during lockdown Mrs Moore, of Galashiels, said this shows "just how kind people are."
Looking towards the future the mother-of-two said: "I think Scarlett will always need therapy, we will just have to keep fundraising."
L-R: Olivia Moore, three, Chris Moore, 37 and mum Laura Moore, 37, Scarlett Moore, five.
Adding: "All we want is for her to be happy and enjoy life. We don't want her to be in any pain. She might never walk or talk but we can tell when she's happy.
"She is a happy cheeky little girl, she loves laughing, rough and tumble. She loves a carry on really."
To donate to Scarlett Moore's therapy fund CLICK HERE
A message from the Editor:Thank you for reading this article. We're more reliant on your support than ever as the shift in consumer habits brought about by Coronavirus impacts our advertisers.
If you haven't already, please consider supporting our trusted, fact-checked journalism by taking out a digital subscription.