Scotland strikes: 'We don't have more money' to pay NHS staff, declares Humza Yousaf
Embattled health secretary Humza Yousaf has warned "we don't have more money" to pay NHS staff as he claimed strikes "are not inevitable".
The Scottish Government and trade unions are locked in a bitter pay dispute, which has resulted in nurses and paramedics voting to conduct strike action before the end of this year.
Ambulance service workers are set to take historic action, with the GMB union confirming a 26-hour strike will be staged starting from 6am on November 28.
Last month, the Scottish Government offered all NHS staff a flat £2,205 pay rise, which on average amounts to a 7 per cent increase.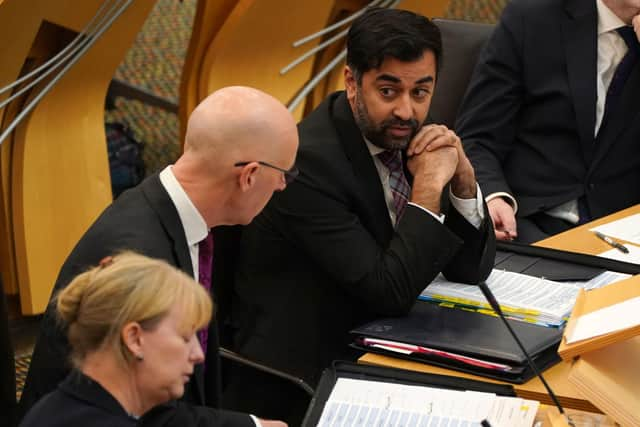 Appearing on BBC Scotland's The Sunday Show, Mr Yousaf said "we don't have more money for pay deals". He confirmed both he and his Welsh counterpart had written to UK health secretary Steve Barclay to ask for more funding to help avert strike action this winter.
"I've had to make a really difficult decision to reprofile £400 million from primary care, from mental health, from social care, to put nearly half a billion pounds on the table for a pay deal," Mr Yousaf said.
"I don't for a minute think that strikes are inevitable. We will be getting back round the table, not just with the Royal College of Nursing (RCN), but with the other health trade unions.
"I believe trade unions also think that a strike is not inevitable. We will have to negotiate. We can look at the redistribution of that £480m, but the UK Government has a moral obligation to give us more money, given they are the architects of this cost crisis.
"The RCN and other trade unions are asking for more money, not for the sake of it, but because of record high inflation and sky high energy prices. I don't think the ask from the trade unions is an unreasonable one."
The strikes, which could take place as the NHS struggles with record accident-and-emergency (A&E) waiting times and a looming influenza and coronavirus season, mean the Scottish Government may turn to the UK Government's Ministry of Defence (MoD) for army assistance.
Mr Yousaf confirmed the Scottish Government, health boards and Scottish Ambulance Service had been making contingency plans for strike action over the winter, with the MoD contacted.
"That would be an extremist option, of course, given the army has its own pressures at the moment, and the threshold for any MACA [Military Aid to Civil Authorities] support would be extremely high," he said.
"We'll do our best to avoid a strike, but I wouldn't be doing my job, frankly, if I wasn't speaking to every single health board to get those detailed contingency plans in place. But that's not plan A – plan A is to avert these strikes."
Scottish Labour Health spokesperson Jackie Baillie said: "With nurses voting for historic industrial action, and ambulance staff on the brink of a strike, it is clear as day that Humza Yousaf has lost the confidence of health workers across our NHS, and he has no idea how to resolve this crisis.
"The health secretary is hopelessly out of his depth, unable to provide basic information on when he'll next meet with the unions to avert strike action and what contingency plans are in place, if the strikes go ahead.
"With ambulance strike action planned in less than two weeks, Humza needs to urgently focus on protecting essential NHS services this winter, rather than trying to save his own skin."
Comments
 0 comments
Want to join the conversation? Please or to comment on this article.