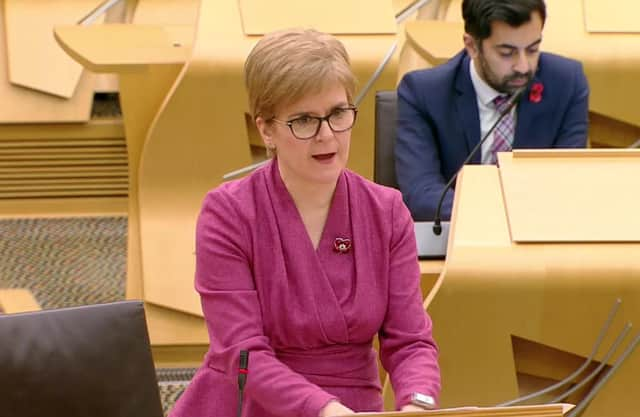 20 freezers have been purchased, Nicola Sturgeon said.
She told the Scottish Parliament of the purchases when asked by MSP Monica Lennon, Labour Health spokesperson, what infrastructure is in place for the delivery of the vaccine.
The Pfizer vaccine, which was yesterday confirmed to be 90 per cent effective in early trials, must be stored at around minus 80 degrees Celcius.
To chuckles in the Scottish Parliament chamber Ms Sturgeon admitted she was using an "un-technical term" for the ultra-cold freezers, but said that a certain number around 20 have been purchased.
"I think from memory we have purchased around 20 of these very large fridges that are capable of storing the vaccine at those very very low temperatures," she said.
"They will be situated in strategic locations across the country.
"There are then logistical issues in terms of getting the vaccines from the cold storage to where they need to be, and there are different temperatures that apply for short periods of time in that journey to the person being vaccinated but all of these things are under very close and active consideration and deployment right now, including, I am pleased to say, the procurement of big fridges."
Ms Sturgeon said earlier during her update that the Covid-vaccination will be led by health boards, and that it will be delivered through local premises including pharmacies.
She added that more detail will be given later.
In response to a question from Ruth Davidson she said: "The Health Secretary will over the next period set out much more detail on exactly how we will deploy the vaccine and the programme that will be in place to ensure that it is delivered to priority groups across the whole of the country.
"We are confident that health boards will be at a level of readiness to deliver that. There will be a nationally coordinated approach to that although delivery will be health board-led.
"There will be a number of local places and premises like pharmacies across the country that will be part of that programme.
"We will set out more detail on that once it is finalised or is finalising over the next weeks."
She added: "This will be one of the biggest vaccination programmes we have ever undertaken, it will certainly be on a par with flu, although on the basis of the Pfizer vaccine we would expect that people will need two doses three weeks apart, so there are even more complicated logistics involved in this."
In her update speech Ms Sturgeon again welcomed the news of Pfizer and BioNTech's breakthrough.
"Yesterday's news from the Pfizer vaccine trial was extremely encouraging. And that is not the only vaccine undergoing trials just now," she said.
"Of course, there are questions still to be answered and hurdles yet to be overcome, and it will take time to get large numbers of people vaccinated.
"But this was the most positive indication yet that science will get us out of this - and it will hopefully do so in the not too distant future. That is good news."
A message from the Editor:
Thank you for reading this article. We're more reliant on your support than ever as the shift in consumer habits brought about by coronavirus impacts our advertisers.
If you haven't already, please consider supporting our trusted, fact-checked journalism by taking out a digital subscription.