Scotland alcohol advertising ban: Nicola Sturgeon says plans to ban distillery signs 'not in our thinking'
Nicola Sturgeon has said proposals to ban alcohol signs on distilleries or visitor centres "are not in our current thinking", as critics raised concerns regarding Scottish Government plans to restrict alcohol marketing.
In response, firms including Lanson Champagne, Diageo and Whyte & Mackay have joined Budweiser and Tennent's in signing an open letter to Holyrood ministers, saying: "Don't destroy Scotland's drinks industry."
There have been suggestions under a strict interpretation of the proposals, whisky distilleries could be made to cover up their brand names on the side of buildings, and tourist attractions such as the Johnnie Walker Experience on Princes Street in Edinburgh would have to cover its window displays.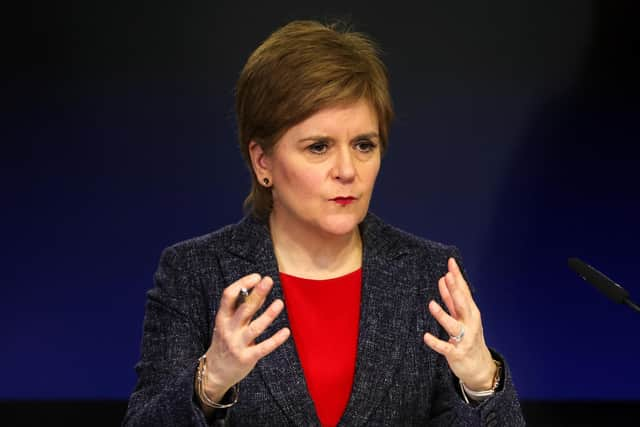 The issue was raised at Holyrood during First Minister's Questions by Scottish Conservative Murdo Fraser, who said whisky tourism was worth "some £84 million annually to the Scottish economy". He asked Ms Sturgeon if she agreed removing signs from distilleries and tourist attractions would be "absurd".
Industry leaders had voiced fears the proposals, if approved, could harm distilleries and tourist venues across Scotland, forcing locations such as the Johnnie Walker Experience on Edinburgh's Princes Street to remove outdoor signage on buildings.
Ms Sturgeon said she agreed with Mr Fraser, adding: "Some of the suggestions we've heard in recent weeks that the target would be painted signs on distilleries or visitor centres are not in our current thinking, let me be very clear on that.
"There is also a world of difference between a billboard outside or in the vicinity of a school, and a Johnnie Walker baseball cap. We've got to look pragmatically and seriously at this. I'm glad Murdo Fraser recognises that we have an issue, a problem, a public health issue with alcohol misuse.
"So, like countries such as Ireland have done, we need to look at promotion and advertising and how we sensibly restrict that to try to deal with that problem, but we need to do that properly and pragmatically.
"And I hope this answer will give some reassurance to those in the whisky tourism sector about some of the supposed things that we've heard in recent days and weeks."
Asked by Mr Fraser whether the consultation would consider the potential impact of an alcohol advertising ban on the tourism and hospitality sectors, Ms Sturgeon said: "The point of the consultation is to get a range of views on the most appropriate next steps in reducing alcohol-related harm, which I hope we can all recognise is one of the most pressing public health challenges that we face.
"Considering restrictions in the promotion of alcohol is not unique to Scotland. For example, Ireland passed legislation to bring in a number of restrictions five years ago, restrictions that were focused on reducing the exposure of children to alcohol promotion, and I think that is key, reducing the exposure of children."
Speaking after the debate, Mr Fraser said the First Minister's answer was "much needed, welcome news" for a whisky industry with "understandable grave concerns over what has been proposed in this consultation".
"The response from the First Minister will have brought some relief to the industry, but I would still encourage everyone to make their feelings known about these plans," he said.
"While it absolutely right that we take specific measures to tackle harms to public health, the best course of action Nicola Sturgeon could take on that front is finally give her backing to the Scottish Conservatives Right to Recovery Bill. That would give access to treatment for everyone who needs it."
A Scotch Whisky Association welcomed Ms Sturgeon's "recognition" of the industry's importance and for making it "clear that stopping the use of brand names in marketing is not in Scottish Government plans".
"It remains the case that the consultation on marketing and advertising contains sweeping proposals that have the potential to damage the industry's ability to generate growth, jobs and prosperity," the spokesperson said. "We look forward to continued discussions of the proposals with the Scottish Government and will formally respond to the consultation in due course."
A spokesperson for Diageo, the company which owns the Johnnie Walker brand, said: "These extreme proposals do nothing to address alcohol harm, they simply undermine efforts to attract investment. We want to work constructively with the Scottish Government to find effective ways of tackling alcohol misuse that don't undermine the unique economic, cultural and community contribution our industry makes to Scotland."
Scottish Health Action on Alcohol Problems (SHAAP), a partnership of medical professionals, wants the level of marketing of alcohol in Scotland to come down, saying it believed this would reduce the economic and societal harms associated with alcohol.
A report published by SHAAP on Thursday had claimed the alcohol industry costs the economy – in terms of impact on public services, productivity and the value of lives lost to alcohol – roughly the same amount as it generates.
But Scottish Conservative shadow minister for business, trade, tourism and enterprise Jamie Halcro Johnston said: "It's vital that action is taken to tackle alcohol dependency, but the proposed advertising ban is a blunt instrument that threatens to do huge damage to industry while doing little to tackle consumption by problem drinkers."
He added: "A blanket ban on alcohol advertising threatens to do huge damage to the Scottish economy and jobs of people."
Comments
 0 comments
Want to join the conversation? Please or to comment on this article.