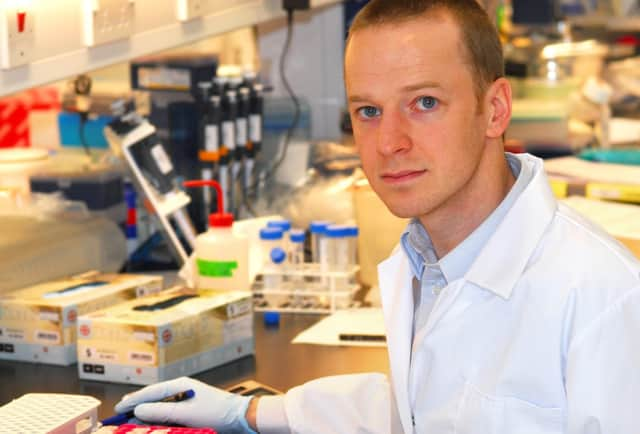 Existing drugs that target the actions of these genes could be repurposed to treat Covid-19 in clinical trials.
As there is a limit to the number of drugs which can be tested at a time, in highlighting those most likely to work this study may save thousands of lives, researchers said.
Scientists from Edinburgh University made the discovery by studying the DNA of 2,700 patients in 208 intensive care units (ICUs) across the UK, in by far the largest study of its kind.
Researchers from the GenOMICC consortium – a global collaboration to study genetics in critical illness launched in 2015 – compared the genetic information of Covid-19 patients in ICU with samples provided by healthy volunteers from other studies, such as UK Biobank, Generation Scotland and 100,000 Genomes.
The team found key differences in five genes of the ICU patients compared with samples provided by healthy volunteers. The genes - IFNAR2, TYK2, OAS1, DPP9 and CCR2 – partially explain why some people become particularly sick with Covid-19, while others are not affected.
Having highlighted the genes, the team were able to predict the effect of treatments on patients, because some genetic variants respond in a similar way to particular drugs.
Based on the findings, published in Nature, researchers say clinical trials should focus on drugs that target these specific antiviral and anti-inflammatory pathways.
One of these is baricitinib, currently used to treat rheumatoid arthritis, while others are drugs in trials for psoriasis.
Dr Kenneth Baillie, the project's chief investigator and Academic Consultant in Critical Care Medicine and Senior Research Fellow at University of Edinburgh's Roslin Institute, said: "This is a stunning realisation of the promise of human genetics to help understand critical illness.
"Just like in sepsis and influenza, in Covid-19, damage to the lungs is caused by our own immune system, rather than the virus itself. Our genetic results provide a roadmap through the complexity of immune signals, showing the route to key drug targets.
"Our results immediately highlight which drugs should be at the top of the list for clinical testing. We can only test a few drugs at a time, so making the right choices will save thousands of lives."
Treatments will not be immediately available as they will need to go through clinical trials.
Professor Sir Mark Caulfield, Chief Scientist at Genomics England, said: "What this study does is it takes the morass of biology, and it shines a light on very specific places, and then says actually, guess what, there is a treatment. It's not used for this, and we didn't have a clue that it would be used for this, although in some of the cases we were thinking about their utility."
He said said further work will be needed in clinical trials to know whether or not this discovery is "game-changing" in terms of Covid-19 therapy.
"But I wouldn't underestimate the leap forward," he said.
"I've been in complex trade genetics for 30 years trying to understand the biology of these diseases. The effects you see here and the number of them is extremely unusual, there are very few settings in which we've seen this."
A message from the Editor:
Thank you for reading this article. We're more reliant on your support than ever as the shift in consumer habits brought about by coronavirus impacts our advertisers.
If you haven't already, please consider supporting our trusted, fact-checked journalism by taking out a digital subscription.