Policing of Sarah Everard vigil and Glasgow Rangers celebrations 'very different situations', says Nicola Sturgeon
Police at a vigil for Sarah Everard in London and at a gathering of Rangers fans in Glasgow were faced with "very different situations", First Minister Nicola Sturgeon has said.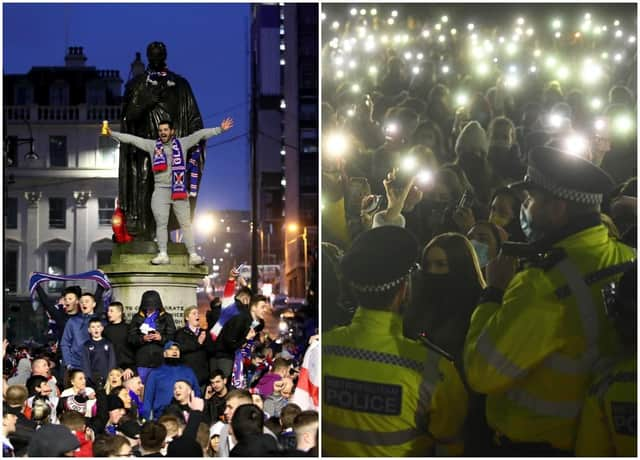 Left: Rangers fans celebrate in George Square on Sunday March 7 after Rangers win the Scottish Premiership title. Right: People turn phone torches on in Clapham Common in London on March 13 after a Reclaim These Streets vigil for Sarah Everard was officially cancelled. Picture: PA
The First Minister was asked at the Covid-19 daily briefing on Monday if the proactive stance of police in London compared to the hands-off approach in Glasgow the previous weekend was because the members of the public in London were largely women, while those in Glasgow were men.
Metropolitan Police commissioner Cressida Dick has faced calls to resign after images were shared of police pinning women to the ground and using force to break up the crowd at a vigil held in London on Saturday after the murder of Sarah Everard
The previous weekend Nicola Sturgeon had been criticised after thousands of Rangers fans took to the streets of Glasgow to celebrate their club's Scottish Premiership win, with just 28 arrests made by Police Scotland.
Ms Sturgeon said she could not comment on the actions of the Met.
"I understand why many people were distressed at the scenes that unfolded on Saturday night, but I'm not responsible for the Met, and therefore it is probably appropriate that I don't comment any further on that," she said.
"The only thing I would say is these are never easy judgements for the police, but they are very different situations."
Ms Sturgeon added that she hopes for a 'watershed moment' in attitudes to women's safety in the wake of the murder of Sarah Everard.
Ms Everard, 33, disappeared as she walked home from a friend's house in London on March 3. Her body was found a week later in a woodland in Kent.
Serving Met police officer Wayne Couzens, 48, has been charged with her murder and kidnap.
Ms Sturgeon told the briefing on Monday: "I, as a woman, understand, and actually share, the anger that many women feel about a sense and a reality that we're not always safe to walk the streets in the way that men are and take for granted."
She said she hopes men will take more of a responsibility on the issue of women being or feeling unsafe.
"For too long, certainly since I was a young girl, the experience for women is that you get told from a very young age that you're not always safe on the streets and that the onus is on you to think about how you mitigate the risks you face and make yourself safer," she said.
"I think there is an overwhelming feeling now that that has to change, that the conversations have to be less about what women do to keep themselves safe, than what more men can do to stop posing a risk to women's safety."
She added: "I certainly hope very much - although we've been here before so I think we all perhaps equally have a bit of scepticism - but I hope this can be a watershed moment, because none of us want to see future generations of girls having to live with the same fears and the same constraints on life as past generations have."
Want to join the conversation? Please or to comment on this article.