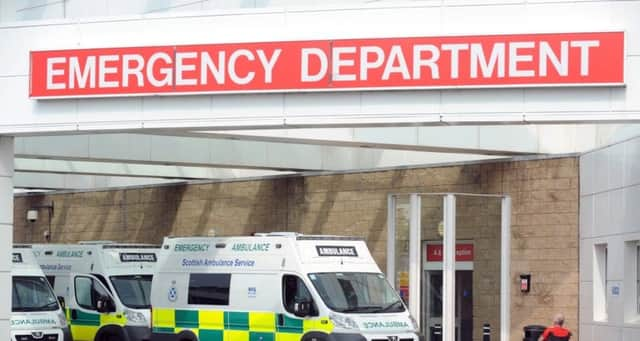 Picture: Jane Barlow
There were 1,260 deaths due to poisoning in 2019, up from 461 in 2011, which PHS confirmed is in line with increases in drug-related deaths in the last decade.
Poisonings make up almost half of the deaths in 2019 attributed to "unintentional injury" – 2,726 overall.
Around 61,000 emergency admissions to hospital were recorded because of accidents in 2019.
Some 1,264 drug-related deaths have previously been reported in 2019. Not all of the deaths due to poison were associated with drug use, and not all drug-related deaths are accounted for in the figures for poisonings.
Acute intoxication deaths were classified as "mental and behavioural disorders", prior to 2011, and have been included in "accidental poisonings" since then.
In 2019, those aged between 25-64 accounted for 1,147 of the deaths from poisoning, and out of the 754 unintentional injuries deaths in adults aged 25 to 44, over 87 per cent were due to poisoning.
Overall accidental deaths or unintentional injuries in adults were 90 per cent higher in the most deprived areas but 48 per cent lower in the least deprived areas when compared to the Scottish average.
Other causes of death included road traffic accidents, falls and assaults, which are included in the figures as "unintentional" on the part of the victim.
There were 49 deaths after assault in Scotland in 2019, 39 of which were in men, and the majority of which involved knives or other sharp objects.
In the past ten years there has been a large decrease in the frequency of assaults involving knives or other sharp objects, with a decrease in deaths of nearly 40 per cent in 2019 since 2010.
The most common reason for hospital admission after an accident was falls, which are common in children and older people.
Falls accounted for almost half of admissions of children, and 85 per cent of those of over 65s.
The rate of falls in older age groups has increased in the past decade.
A message from the Editor:
Thank you for reading this article. We're more reliant on your support than ever as the shift in consumer habits brought about by coronavirus impacts our advertisers.
If you haven't already, please consider supporting our trusted, fact-checked journalism by taking out a digital subscription.