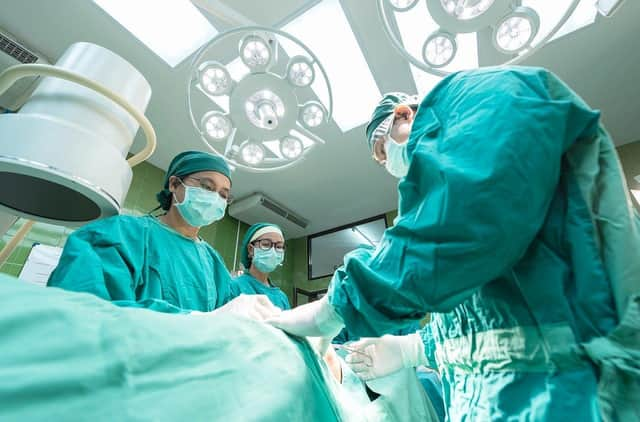 Researchers found that almost twice as many orthopaedic patients awaiting surgery have a quality of life ranked "worse than death" during the pandemic compared with previous levels.
The UK-wide findings, published in the Bone and Joint Journal, highlight the suffering experienced by bone and joint patients on waiting lists and the swift action required to help them, surgeons said.
Researchers used EuroQol-five to assess patients, a standardised measure of quality of life which includes mobility, self-care, usual activities, pain/discomfort and anxiety/depression.
Patients are scored from -0.6 to 1, where 1 is full health and zero is considered death. Negative scores are considered to be "worse than death" based on the general UK public saying they could not bear to survive in this health state.
Some 35 per cent of patients waiting for a hip replacement and 22 per cent of patients waiting for a knee replacement in the study rated their scores below zero and so were deemed to be in a state worse than death.
This was an increase from the previous figures which showed negative scores for 19 per cent of those waiting for total hip operations and 12 per cent of those waiting for total knee operations.
One hip patient who had urgent surgery in January 2021 said she struggled with severe pain during lockdown.
"At the start of the first lockdown I had already been on the waiting list for an orthopaedic outpatient appointment for over four months," she said.
"On my daily permitted walk during the first lockdown I was limping valiantly but by Autumn I was struggling with stabbing pain and decreasing flexibility – even getting in and out of a car was agonising. I feared that my normally active lifestyle could be lost forever.
"Less than three weeks after the operation I threw away my stick and am now I am walking distances I could only dream of before the operation – and without pain. I have my life back."
Chloe Scott, Consultant hip and knee surgeon, and Honorary Senior Clinical Lecturer at the University of Edinburgh, said: "These patients are suffering. Because of the pandemic, elective surgery such as hip and knee replacements has all but stopped.
"Orthopaedic patients have been disproportionately affected by cancellations of surgery during the pandemic as we have been allowed to do the least amount of operating compared to normal levels of all surgical specialties.
"This study shows how severe living with arthritis is. We know that joint replacements can be life changing and, in our view, these operations are not 'elective' and our patients should not be at the bottom of the pile as we restart surgery."
Tracey Loftis, of the charity Versus Arthritis, said, 'Thousands of people are enduring long waits with no end date in sight. We have heard from people who have lost jobs, are unable to care for relatives and are seeking help for depression because of the debilitating pain they are in.'
A message from the Editor:
Thank you for reading this article. We're more reliant on your support than ever as the shift in consumer habits brought about by coronavirus impacts our advertisers.
If you haven't already, please consider supporting our trusted, fact-checked journalism by taking out a digital subscription.