'On the verge of another crisis' - Scotland's surgery backlog soars to 71,000 in four months as leading doctors call for Covid 'low risk' zones in hospitals to keep operating - especially for cancer patients
Scotland's surgery backlog nearly tripled over the first four months of the coronavirus pandemic, sparking fresh calls for 'low risk' zones in hospitals where operations can take place to avoid another "crisis" - especially for cancer treatment.
New Public Health Scotland (PHS) figures, obtained under freedom of information laws, have revealed 27,016 (33.8 percent of those on waiting list) of patients were waiting beyond the Scottish Government's 12-week treatment time guarantee for elective procedures at the end of February - but this soared to 71,134 patients (82.7 percent) at the end of June. These are the latest statistics available.
Non-life threatening elective procedures were postponed on March 17 to allow NHS Scotland staff to be redeployed to support the pandemic response but routine treatments have been gradually restored from mid June as restrictions eased.
But official PHS figures published for August also showed just half of the usual number of planned operations were taking place - a fall from 28,036 to 13,831 year on year - and Covid cases and hospital admissions have been rising in recent weeks.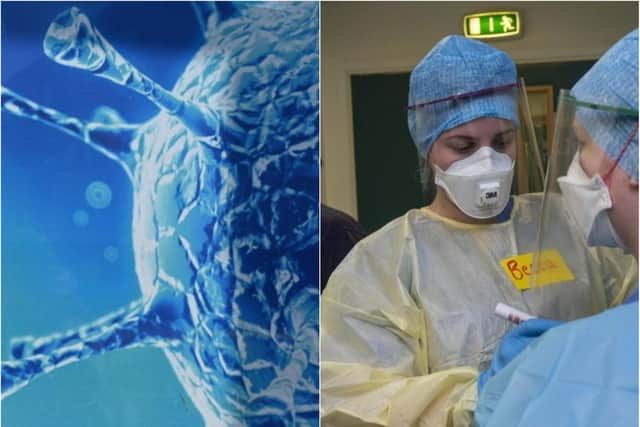 The pausing of healthcare services has also meant longer waits for diagnoses which could have a knock-on effect on procedures, including cancer patients with months of screening services being halted and patients not presenting symptoms.
Professor Michael Griffin OBE, president of the Royal College of Surgeons of Edinburgh, said the latest figures for Scotland's surgery waiting times were "disappointing" but "not surprising."
He said: "This is very concerning, particularly for patients awaiting potentially lifesaving procedures such as cancer surgery. A significant backlog of patients waiting for cancer operations built up over the course of the initial lockdown, and while these procedures were restarted and are being carried out quickly and efficiently, as restrictions have increased lately and we face a potentially longer and more sustained second wave, we risk being back in the same position once again.
Prof Griffin continued: "As more rapid testing technology comes on stream the Scottish Government must implement more stringent measures within NHS hospitals to create Covid 'low-risk' environments where operations can safely take place.
"This includes stemming the increase of Covid transmission amongst staff and more regular, robust testing of staff. If we are to maintain crucial services such as diagnostic testing and surgery at this stage of the pandemic, these measures have to be in place to protect healthcare workers and patients.
"We are on the verge of another crisis point for preservation of elective work, so it is more important than ever that adequate infrastructure is in place to minimise the spread of Covid within hospitals."
Waiting time performance varied across Scotland's health boards but the backlog has increased in all areas.
In NHS Greater Glasgow and Clyde, nearly 60 percent of their 22,775 patients on the waiting list at the end of February were seen within 12 weeks but, by June 30, this fell to 16.1 percent of all 24,492 on the list.
In Lothian, 23 percent of the 13,282 patients on the list at the end of June were seen within 12 weeks - but this health authority's performance at the end of February was already higher than most with 73 percent of 11,434 patients seen within the statutory treatment time.
Waiting times must not 'spiral out of control'
It came after 37 non-urgent procedures were cancelled at the Edinburgh Royal Infirmary so the hospital could focus attention on treatment for Covid patients.
Scottish Conservative Health spokesman, Donald Cameron MSP, said: "While we regrettably experience an increase in new Covid cases, the SNP must ensure that we don't forget about patients who are waiting for vital operations.
"Our health boards and staff on the frontline must be fully supported through the winter to carry out planned procedures wherever possible.
"It would be unacceptable if waiting times were allowed to spiral out of control.
"Many patients will be waiting, and may even be in pain, and they deserve urgent clarification on what is happening in relation to vital surgery."
A Scottish Government spokesperson said: "We are aware that this has been an incredibly difficult time for people with cancer, and throughout the pandemic NHS Scotland has remained open, continuing to provide emergency and urgent cancer treatment as well as maintaining Covid-19 capacity and resilience.
"To support surgery the Cabinet Secretary announced on June 4 the Framework for Recovery of Cancer Surgery to assist NHS Scotland prioritise those most in need of cancer treatment.
"On 28 October we also published a Winter Preparedness Plan for NHS Scotland which makes clear our expectation that cancer treatment is prioritised and that this national guidance is followed. We will shortly be publishing a National Cancer Recovery Plan setting out how we will reduce inequalities and ensure patients across Scotland have equitable access to treatment and care.
"We are doing all we can, working closely with health boards, to get those affected the care they need as quickly as possible, in line with local remobilisation plans, while also supporting boards to respond to ongoing Covid-19 requirements as necessary.
"Restarting paused services has to be measured against the need to keep the virus under control, while continuing to protect the NHS and save lives."
Coronavirus cases have been rising in Scotland in recent weeks, with 1,225 patients now in hospital and 93 in intensive care according to the government's latest daily figures published on Monday – although the number of cases today dipped below 1,000 at 951.
At its peak in mid April, there were more than 1,500 patients with Covid being treated across the country.
But First Minister Nicola Sturgeon said over the weekend that tough restrictions introduced in Scotland in late September appear to have slowed the rate of infection increase.
A message from the Editor:
Thank you for reading this article. We're more reliant on your support than ever as the shift in consumer habits brought about by coronavirus impacts our advertisers.