Older Scots to be frozen out of 'virtual' GP appointments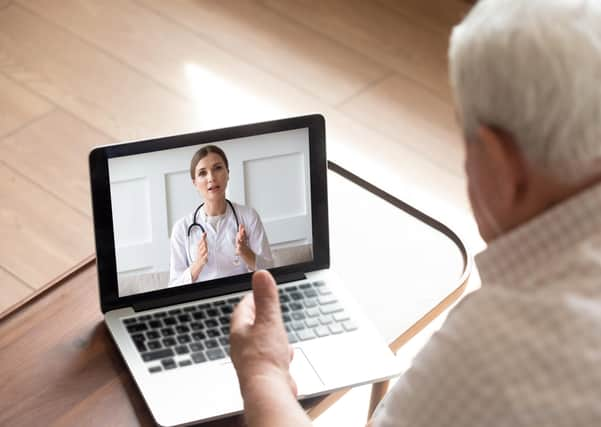 Hundreds of thousands of older Scots will be frozen out of the shift towards "virtual" GPs consultations, campaigners have warned.
It comes after a report yesterday found almost 90 per cent of people backed the Near Me video system. It was originally designed to serve rural communities, but was scaled up from March for safety during the Covid pandemic. The nationwide engagement survey of the scheme also found that 94 per cent of clinicians favoured a digital first approach.
The Scottish Government has already pledged that the system of "virtual consultation" will be the default in future, although ministers say face to face appointments will always be an option.
Adam Stachura, head of policy at Age Scotland, said: "For many older patients not seeing their doctor in person over a prolonged period has clearly had a detrimental effect on their health and wellbeing.
"While there has been a recent increase in the number of older people with access to internet or using a smart phone, hundreds of thousands still do not and taking part in a video appointment is not an option for them.
"We also know from calls to our helpline that older people have struggled to make GP appointments in the first place, with the only option to do so being via a website."
The survey report, published yesterday, found there was a drop off in support for video consulting in older age groups, but this was "relatively small". Health secretary Jeane Freeman said: "I am pleased patients and clinicians recognise the benefits of the Near Me service which offers people more choice over how they access health and care services and more flexibility in their day to day lives. As we look ahead to winter we will better support people to ensure they have the information they need to get the right care, closer to home."
Video consultations are viewed as giving patients greater choice, as well as reducing the need for unnecessary travel. The main barriers were the lack of internet connections among some groups and a lack of private space for video calls.
But three-quarters of doctors said there were occasions when they would not use video, with the most frequently cited being when a physical examination is required.
GPs also worry over the poor quality of calls as well as the possibility of "missing something" on video and indicated a preference to see patients in person.
Dr Andrew Cowie, deputy chair of the BMA Scotland GP committee, said: "Although virtual appointments are invaluable in the current environment, and will remain one of the routes that patients can use to consult with their GP in the long term, I think that everybody – patients and GPs alike, are looking forward to a time where we can see a greater proportion of consultation delivered face to face."
Comments
 0 comments
Want to join the conversation? Please or to comment on this article.