Mavis Paterson, who lives in Dumfries and Galloway, will celebrate her 85th birthday during the adventure on May 24, which is in aid of cancer charity Macmillan. In 2019, Mavis became the oldest ever woman to cycle the entire length of Britain and the year before this she completed a 24-hour cycle.
She raised more than £75,000 and was named as a Pride of Britain fundraiser of the year finalist, as well as appearing in the Guinness Book of Records as the oldest woman ever to cycle from Lands End to John o' Groats.
She has also cycled across Canada, to raise money for Macmillan, with her journey becoming the subject of a BBC documentary. But it was the tragic death of her sister that first inspired her charitable endeavours.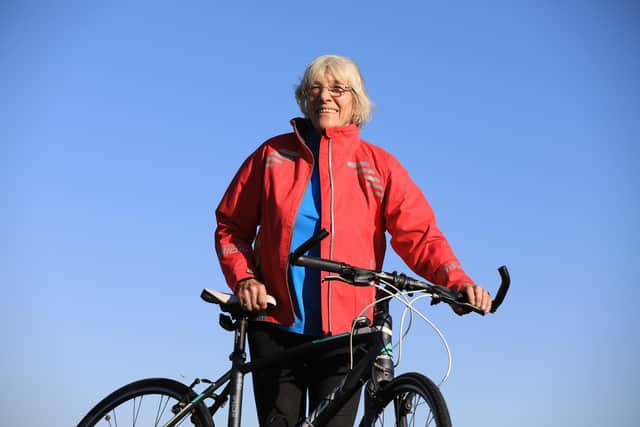 "My sister lived in Melbourne and sadly died," said Mavis. "And when I was visiting her the very last time she had cancer, and she was dying.
"But there was a wonderful nurse who came in and she was the equivalent of our Macmillan nurses. She did a wonderful job with my sister.
"There was no pain due to the palliative care she received, she looked after her so well. Because of that, I decided to join the equivalent of Macmillan [in Australia] and I've been on the committee for about 20 years now."
Her latest journey is in memory of her three adult children, who died four years apart – Sandy in 2012, Katie in 2013, and Bob in 2016. Mavis, or 'Granny Mave' as she is known, wants to focus her energy into taking on this phenomenal challenge to raise money for people living with cancer.
Mavis will start the journey from the Mull of Galloway, near her home in Auchenmalg. Bruce Port, a fundraising manager for Macmillan, said: "Mavis is incredible. The challenges she sets herself are astounding and she has achieved some incredible things to raise money for Macmillan.
"I know getting out on her bike helps her both physically and mentally. However, it takes a huge amount of determination to achieve what she has. We are so thankful that she has picked Macmillan as the charity she wants to support.
"Macmillan relies almost entirely on donations and it's only thanks to people like Mavis, and their remarkable determination to take on challenges like this, that we are able to continue to support the growing number of people who need us.
"Mavis really is helping us to make a difference to those affected by cancer in Scotland."
More than three million people are living with cancer in the UK and, according to Macmillan, by 2030 this figure will have risen to four million. Macmillan aims to raise money to provide vital cancer services, research and campaign to achieve better cancer care, and support the cancer workforce.
As Mavis prepares to embark, she has already raised £11,750 of her £30,000 target. To help her reach this goal, visit www.justgiving.com/page/grannymave1000.