But the First Minister stressed the need to take "responsible steps to protect public health", insisting there was evidence that adverts which "glamorise" drinking could lead to "over-consumption of alcohol".
She spoke out after more than 100 firms which produce alcohol, including the Budweiser Brewing Group, Lanson Champagne, Diageo, Whyte & Mackay and Tennent's Lager, signed an open letter to Holyrood ministers, saying: "Don't destroy Scotland's drinks industry."
The letter, described as being an unprecedented display of concern from the sector, marks the firms' opposition to new restrictions that the Scottish Government is consulting on.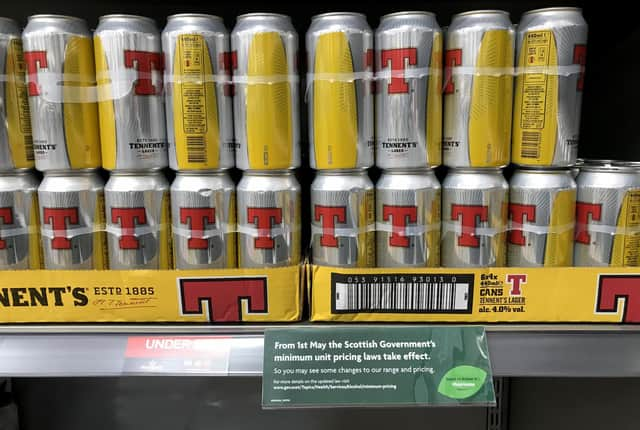 Alcohol producers from across Scotland, however, spoke out against the measures being consulted on. Other signatories included Belhaven, Brewdog, Chivas Brothers/Pernod Ricard, The Macallan, and the Molson Coors Beverage Company.
The measures being consulted on by ministers could see a ban on alcohol sponsorship for both sports and live events.
The consultation, which runs until March 9, could also see distillery and brewery shops barred from selling branded merchandise to visitors, as well as drinks branding being removed from pub umbrellas and glassware.
With ministers also considering a ban on all outdoor advertising of alcohol, including on vehicles, and a ban on adverts in newspapers and magazines, the companies that signed the letter fear the measures would result in a "blanket ban on alcohol advertising and sponsorship" in Scotland.
But speaking at a press conference in Edinburgh, Ms Sturgeon insisted: "This is not about doing economic damage to the alcohol industry. It is about making sure we are taking responsible steps to protect public health."
She said she was "aware" of the letter, adding public health minister Maree Todd was due to meet alcohol industry bosses, amongst others, during the consultation.
"I am aware of the letter that has been sent; the consultation, of course, is ongoing," she said. "The public health minister will meet with a range of stakeholders over the course of the consultation.
The First Minister stressed "nobody in Government is telling people not to drink alcohol at all", adding the changes being considered were about the "responsible consumption of alcohol". She said there was evidence globally that "advertising that glamorises" could "lead to over-consumption of alcohol".
Ms Sturgeon said: "These are things we need to consider carefully and we will consider them carefully."
However, the 100-plus firms which have signed the letter insisted the changes being considered "could not have come at a worse time for our sector, and the many thousands we employ".
With the sector employing 88,700 people in Scotland, and contributing £6.1 billion gross value added (GVA) to the economy each year, according to the companies, they described drinks such as Scotch whisky, and beers and gins produced in Scotland, as being "iconic exports which, in turn, drive our economy here at home".
But they said the sector had "suffered hard through the Covid years", and added the cost-of-living crisis "threatens the very existence" of some firms.