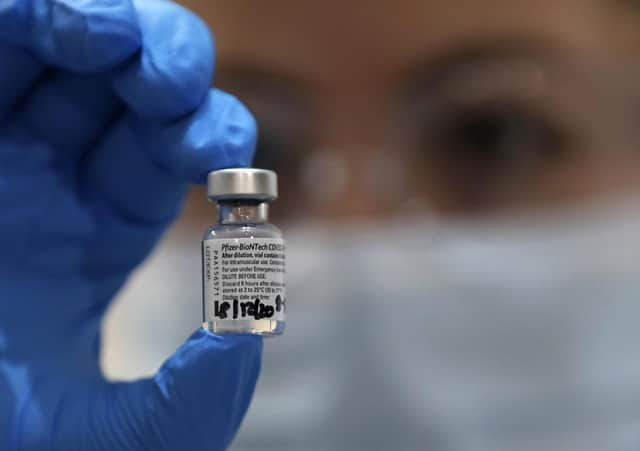 The programme, which began on December 8, includes vaccines from both Pfizer and AstraZeneca, more recently approved.
More than 18,500 people were given a dose in the first week, with rollout stepped up to around 38,000 doses delivered in the second week.
Figures dropped slightly in the third week of delivery, which included the festive period, with 35,500 doses given.
The Scottish Government now has two Covid-19 vaccines available, with the first doses of the AstraZeneca jab given on Monday January 4, just days after it was approved for use in the UK by the Medicines and Healthcare Products Regulatory Agency (MHRA).
First Minister Nicola Sturgeon has said Scotland faces a "race" between rising Covid-19 cases and the rollout of a vaccine.
It is hoped the country will have access to 900,000 doses by the end of January, split roughly equally between the two vaccine types.
Ms Sturgeon said the Scottish Government "does not yet have certainty" on supply schedules beyond January, but hopes that by early May everyone on the first vaccine priority list according to the Joint Committee on Vaccination and Immunisation (JCVI) will have been offered a vaccine.
This timeline will require a significant increase in the number of doses delivered a week, as at the current rate a first dose will not be given to all 2.7 million people on that list until mid 2022, without taking into account second doses.
But it is hoped this will be achievable with more vaccines on offer and more locations and staff available.
Second doses of the Oxford AstraZeneca vaccine will be given 12 weeks after the first.
Those for the Pfizer vaccine were originally planned to be given three to four weeks after the first, but will now be administered after up to 12 weeks.
This change, which has been recommended by the JCVI, has been accepted by the Scottish Government despite some criticism over disruption to patients and vaccinators.
The World Health Organisation warned against the strategy on Wednesday.
Alejandro Cravioto, chair of the WHO's Strategic Advisory Group of Experts on Immunisation (Sage), said the second dose should only be delayed in "exceptional circumstances".
Doctors have also warned the turnaround has impacted NHS staff morale, with Graeme Eunson, chair of the Consultant's Committee at BMA Scotland, calling it a "kick in the teeth".
It comes as the Covid-19 vaccine developed by Moderna was approved for use in the European Union on Wednesday.
The UK has ordered seven million doses of the Moderna vaccine, alongside 40 million doses of the Pfizer vaccine and 100 million of that developed by AstraZeneca.
The devolved nations are delivered stocks proportionate to population, with around 8.2 per cent destined for Scotland.
Due to timeline and stock levels, most Scots are likely to receive the AstraZeneca vaccine. This option is also easier to manage logistically, as it does not require the extreme cold temperatures of the Pfizer vaccine, and is cheaper, at around £3 per dose compared to Pfizer's £15 and Moderna's £25.
The UK has also ordered 60 million doses of a Covid-19 vaccine developed by Novavax, 30 million doses from GlaxoSmithKline and Sanofi, and 60 million doses from Valneva.
The Valneva vaccine is being manufactured in Livingston, in West Lothian, but will not be ready until the end of 2021, as it entered phase three clinical trials in December.
Government officials have said it will benefit the UK to have a range of vaccine options available.
The large number of doses on order also provide security should any fail to be approved or develop problems with supply.
The UK was the first country in the world to begin vaccinations with the Pfizer jab, and has vaccination rates remain higher than most other countries in Europe.
Countries in the EU received a delivery of 10,000 doses on Christmas eve, with vaccination beginning from December 27.
The Netherlands has trailed behind, with vaccination beginning on Wednesday despite stocks of the Pfizer vaccine being available in the country at the end of December.
Part of the delay was reportedly due to an IT system which needed to be upgraded to allowed local health authorities to track appointments and vaccinations.
Some concerns have been raised by charities over rich countries buying up vaccine stocks to the detriment of poorer countries.
The People's Vaccine Alliance warned in December that almost 70 lower-income countries would only be able to vaccinate one in 10 people.
AstraZeneca has committed to making its vaccine available on a not-for-profit basis to developing countries.
National Clinical Director Jason Leitch alluded to the need for fair distribution of Covid-19 vaccines in November, quoting WHO Director General Dr Tedros Adhanom Ghebreyesus, who said in a press conference in September: "The first priority must be to vaccinate some people in all countries, rather than all people in some countries".
Dr Mr Leitch added: "We've all paid into a WHO bank in order to vaccinate the world, because that's what we need to do. In order to get back to normal for Scotland, Denmark has to vaccinate, it's not enough for Scotland to vaccinate.
"In order for us to get rid of this thing the whole world needs to be immune, a bit like we are to smallpox and polio. We need to think about it on a much bigger scale."