Nicola Sturgeon opens National Treatment Centre in Fife in final role as First Minister
Victoria Hospital's new multi-million pound National Treatment Centre has been officially opened by First Minister Nicola Sturgeon - a visit that brought her ministerial career full circle.
In her final act as First Minister, Ms Sturgeon opened the £33 million orthopaedic centre on Friday, alongside Tricia Marwick, chair of NHS Fife – former Presiding Officer at the Scottish Parliament – and Carol Potter, NHS Fife chief executive.
The event brought the soon to be former First Minister's ministerial career to a close at the same hospital where she performed her final duty as Health Secretary in 2012.
Ms Sturgeon said: "This is my last public event as First Minister. My last public event as health secretary was opening the new wing of the Victoria Hospital.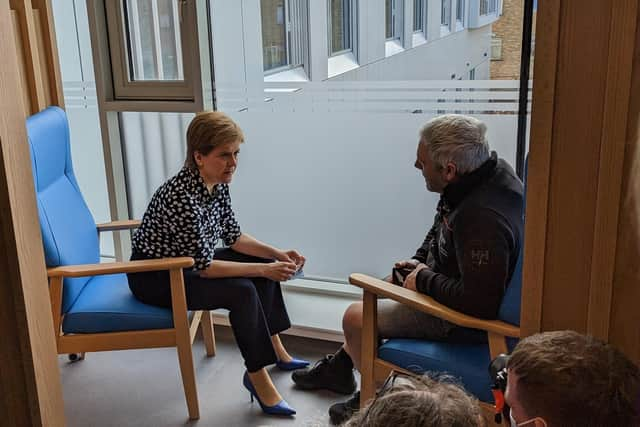 "So this day for me is full circle, and being here with Tricia as chair of the health board when she was Presiding Officer when I became First Minister, it could not be a more perfect way to draw my time as First Minister to a close".
The centre is the first of four National Treatment Centres that will open across Scotland over the course of the next year.
Ms Sturgeon said that it is "difficult to overstate" the importance to NHS Scotland that the centres will bring, as she highlighted its place in "how we make sure we continue to sustain and grow our national health service".
She added: "This is so important, but, course, as impressive as it is, it is just bricks and mortar. What matters more than anything arethe people who work here, the people who deliver the clinical care and all the support staff that go into making any hospital or any clinical facility.
"I want to say a very heartfelt thank you to everybody who has played a part in making this new facility possible. What we are celebrating today is that collective contribution".
Ms Sturgeon called the work that takes place at Victoria Hospital "special" as she paid tribute to staff.
She said: "Over recent years, one particular family member of mine has benefitted from the care and the love and the professionalism and the dedication of the people who work at the Victoria Hospital here in Kirkcaldy.
"I've seen first hand, not as a politician but as a daughter in law, just how special everything that you do here is".
The facility hosts three operating theatres, a supporting inpatient ward and associated outpatient facilities.
The newly constructed NTC Fife Orthopaedics building is the largest capital project that NHS Fife has undertaken since the opening of Phase III of the Victoria Hospital in 2012. Construction of the facility began in March 2021.
It is hoped that the centre will provide additional capacity for more than 700 orthopaedic procedures a year, including hip and knee surgery, by 2025/26. The current median wait time for orthopaedic procedures is 22 weeks.
Ahead of the facility opening on Monday, Ms Marwick said: "We are fortunate in Fife to have one of the most forward-thinking and innovative orthopaedic teams anywhere in the country and this new facility will support them to deliver the very highest standard of care for patients."