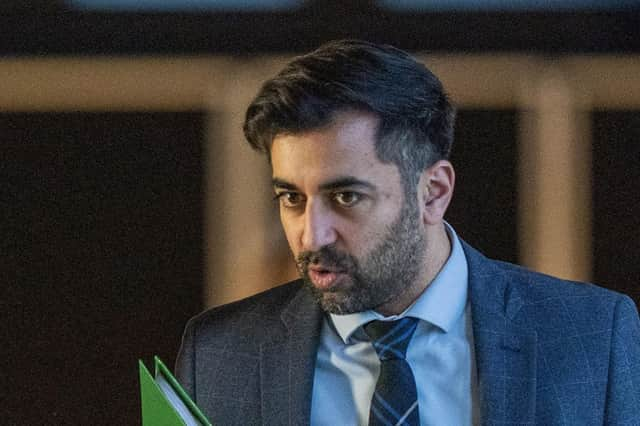 It comes as funding of at least £8m for hundreds of new care home beds and NHS24 call staff was announced by the Scottish Government, to relieve the crisis unfolding in Scotland's hospitals.
Speaking in the Scottish Parliament, health secretary Humza Yousaf told MSPs the Scottish Government has identified 300 care home beds that can be secured to allow patients to be discharged from hospital.
Scotland's Health and Social Care Partnerships (HSCPs) will share £8m to procure beds at 25 per cent over and above the standard National Care Home rate for beds. This is in addition to around 600 interim care beds already in operation across the country.
Pledging that the Scottish Government would work to "utilise every bed possible", Mr Yousaf said that spaces in care homes were now being used as an "extremis, time-limited measure" to help free up hospital beds.
The Health Secretary said: "These interim beds may not be a family's first, or indeed second, choice for their relative. But I hope families agree in the current circumstances this is about making the best possible choice for those in our care.
"This measure will only be in place for a limited period of time to directly support our hospitals to deal with pressures at the front door.
"However, it will enable some people to move from an acute setting to a more appropriate community one, recognising the risk of prolonged stays in hospital."
However, Colin Poolman, Scotland director of the Royal College of Nursing union, said that although "it is right to work to reduce the number of delayed discharges in Scotland's hospitals", the Scottish Government "must recognise and address the serious workforce shortages in Scotland's communities". The BMA, meanwhile, said a national conversation on the future of the NHS was needed, not just a "short-term fix".
"District nursing services play a key role in supporting people to return home from hospital" said Mr Poolman, "and in preventing hospital admissions in the first place, but the vacancy rate for district nursing has reached 16 per cent. Meanwhile 60 per cent of care services that employ nurses report vacancies.
"Without investment in staff, providing more facilities - whether it's more beds in care homes or hospitals - won't tackle this problem."
Mr Poolman, whose union is currently planning strike action in a pay dispute with the Scottish Government, added that "fair pay is a fundamental part of this".
The extra funding comes as the latest figures showed record numbers of patients having to spend more than 12 hours in accident and emergency, while delayed discharge also reached its highest ever level.
Mr Yousaf told MSPs in Holyrood the NHS is facing a "perfect storm of intense pressures which are leading to extreme difficulty, disruption and delays right across the service".
The week ending January 1 saw more than 1,200 patients in hospital with coronavirus – up 15 per cent from the previous week and double the number from four weeks ago, while flu admissions were "around three times higher than emergency admissions due to Covid".
The Scottish Conservatives' health spokesperson, Dr Sandesh Gulhane, described the figures as "truly terrifying", and questioned why the government was devoting more time to debating independence in the Scottish Parliament on Tuesday than it was to Yousaf's statement on the NHS.
"We heard nothing from Humza Yousaf over the festive period, only for him to hastily cobble together a statement today," said Dr Gulhane, "shortly before another divisive debate on independence which is timetabled to last longer than this statement on healthcare.
"This is a national emergency. People are dying unnecessarily, our heroic NHS staff are overwhelmed and burning out.
"The crisis in our NHS should be a priority for this parliament, because it is a priority for the people of Scotland - and they will be appalled today."
First Minister Nicola Sturgeon announced during a televised media briefing there were currently more than 1,700 people in hospital awaiting proper care provision so they could be discharged from hospital. The First Minister also told journalists the NHS24 call line service received almost 100,000 calls over the two four-day breaks of the festive period.
The advice service is aiming to recruit about 200 new staff before the end of March, including new call handlers and clinical supervisors.
Commenting, Scottish Labour's health spokesperson Jackie Baillie said that despite Scottish Government claims the NHS is experiencing "unprecedented pressure", the current crisis "was predictable and in fact fewer patients are being seen in A&E than before the pandemic".
"The health secretary has been warned about this crisis for well over a year, and he has failed to listen and act on solutions," said Baillie.
"This government failed to end delayed discharge, something they promised to do in 2015 and eight years on, it's at record levels.
"This government presided over inadequate workforce planning – and we now have 6,400 nursing vacancies and up to 14 percent of consultant posts in some areas lying empty."
Dr Iain Kennedy, Chair of BMA Scotland said: "Any attempt to fix the serious problems facing the NHS in Scotland have to be part of a wider, long-term strategy and not just a short-term fix to tide us over through this challenging winter period.
"The BMA in Scotland has long emphasised the need to focus on ensuring people who are able to leave hospital can do so – freeing up desperately needed capacity and therefore ensuring those who need to can be admitted from A&E and GP practices more quickly and safely.
"There are no easy solutions, this is going to take brave political leadership, it requires looking at the bigger picture and making the right longer-term strategic decisions about what we want our health care system in Scotland to look like and how we want to provide care.
"This is something that needs to be done across the health and political divide but also in partnership with patients and the public. BMA Scotland welcomes the Cabinet Secretary for health's comments that he will look at holding a National Conversation on the future of our NHS. If we want a National Health Service in Scotland in the future, fit for purpose, then now is the time to safeguard it, to ensure its survival. I look forward to discussing the proposal for a National Conversation with the Cabinet Secretary tomorrow."