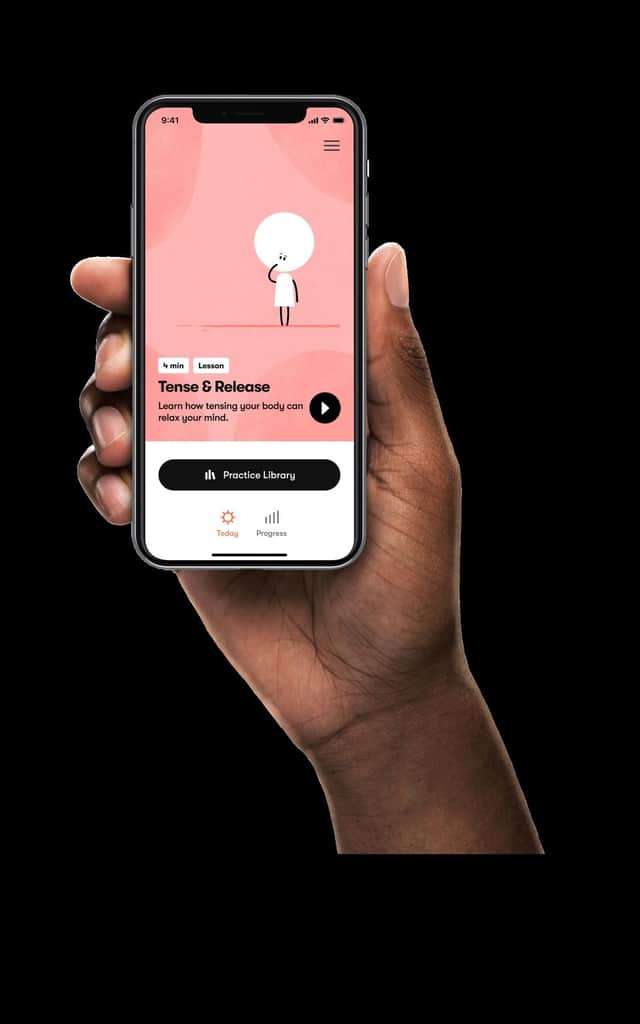 NHS Scotland provide clinically-proven apps for sleep and anxiety support
In September 2021, The Scottish Government announced that all adults living in Scotland have access to Daylight and Sleepio, Big Health's digital therapeutics for anxiety and insomnia, as part of their NHS services. People in Scotland can learn more about the programs and sign up for Daylight via self-referral here and Sleepio here, or by visiting their GP.
In a 2020 pilot, the Scottish Government made Daylight and Sleepio available across five NHS Health Boards and 63 per cent* of Big Health users in Scotland experienced an improvement in their anxiety symptoms and gained an average of seven additional hours of sleep per week.
Since launch, over 10,000 people have accessed Daylight and Sleepio free via the NHS and in Gold-Standard randomised controlled trials (RCTs)
clinical trials over 70% of patients using Daylight report improvements in their anxiety1 and 76% of patients using Sleepio reported improvements in insomnia symptoms and overall mental health respectively2.
With standard wait times for mental health treatment via the NHS currently at 18 weeks, the addition of digital solutions like Daylight and Sleepio provides patients with instant access to therapy wherever they are and enables healthcare professionals to better tackle the rising demand for mental health services.
Patients are finding success accessing therapy via these digital services and some patients are finding Daylight, in particular, more beneficial than traditional cognitive behavioural therapy (CBT) services.
Colin, 62, retired, Daylight user from Stirling said: "I was a Paramedic for 20 years and never struggled with anxiety but over the past six months I've had a couple episodes recently that feel like they just sneak up on me. I just couldn't believe how bad it was. It impacted my relationships to a point where I thought my marriage wouldn't hold up."
"So tried various CBT services, online and over the phone but found them pretty hard to engage with. I found them quite difficult to take on. I'd had Daylight recommended to me by a GP so I downloaded it and instantly found it much easier to use than any CBT services I've tried. It's easy, straight forward, and it gave me some suggestions quite quickly."
"I would absolutely recommend it to others. Daylight taught me no matter how bad things are, there is a way out and things will get better if you stick at it. I feel 100% back to what I was before and if I do fall back into anxiety, Daylight would be the first thing I resort to."
NHS workers also feel the addition of Daylight and Sleepio are a benefit to their services.
NHS Forth Valley Health Improvement Senior Officer Fiona McFarlane said: "At NHS Forth Valley, we want no barriers for patients to access our services and we've found the rollout of Daylight and Sleepio along with their materials for NHS staff has been an invaluable resource."
"As demand for mental health services continues to rise, innovative countries like Scotland have focused on expanding access to care through digital approaches." said Big Health U.K. Director Heather Cook. "By increasing the options for evidenced-based mental health help at the point of need, Scotland is the only country to truly exploit the potential for digital therapeutics. We are proud to expand our service in Scotland to support the Scottish Government's world-leading mental health strategy."
Big Health was co-founded by Professor Colin Espie, a Scot, world renowned clinical psychologist, and Professor of Sleep Medicine at the University of Oxford. Daylight and Sleepio administer evidenced-based cognitive behavioural therapy in a fully digital format, effectively providing non-drug alternatives for sleep and mental health. Gold-standard randomised controlled trials (RCTs) have shown that 71 percent of patients who used Daylight achieved remission from anxiety and 76 percent of patients who used Sleepio achieved clinically significant sleep improvements.
Disclaimer: In the UK, Sleepio and Daylight are CE marked medical devices available for the treatment of Insomnia Disorder and Generalized Anxiety Disorder, respectively.
Big Health's mission is to help millions back to good mental health by providing safe and effective non-drug alternatives for the most common mental health conditions. Designed by leading clinical experts and backed by 13 RCTs, Sleepio™ for insomnia and Daylight™ for worry and anxiety are among the world's most evidenced digital mental health solutions. These programmes seamlessly integrate into primary care, enabling clinically effective self-management of mental health. With offices in London and San Francisco, Big Health's digital therapeutics are used by leading health systems like the NHS and large multinational employers. For more information, please visit https://www.bighealth.co.uk/.
" Source : Sleepio & Daylight Product Usage Data "63% of users report improvements in anxiety symptoms and 7 hours of extra sleep per week."
1. Daylight Source: Carl, J. R., Miller, C. B., Henry, A. L., Davis, M. L., Stott, R., Smits, J. A., … & Espie, C. A. (2020). Efficacy of digital cognitive behavioral therapy for moderate‐to‐severe symptoms of generalized anxiety disorder: A randomized controlled trial. Depression and anxiety, 37(12), 1168-1178.
2. Sleepio Source: Espie, C. A., Kyle, S. D., Williams, C., Ong, J. C., Douglas, N. J., Hames, P., & Brown, J. S. (2012). A randomized, placebo-controlled trial of online cognitive behavioral therapy for chronic insomnia disorder delivered via an automated media-rich web application. Sleep, 35(6), 769-781.