The British Medical Assocition (BMA) has described the Scottish Government's latest pay offer as "a fork in the road in our ambition to achieve full pay restoration", as it insisted "all options are on the table" if its members vote to reject the pay deal and continue with strike action.
Junior doctors in Scotland have been offered a 14.5 per cent pay rise over two years in an attempt to curb strike action, after BMA members voted for a 72-hour walkout in what would be their first national strike over pay.
The Scottish Government said the offer represented a £61.3 million investment in junior doctor pay, and would constitute a 6.5 per cent pay increase in 2023/24, as well as a 7.5 per cent uplift in 2022/23.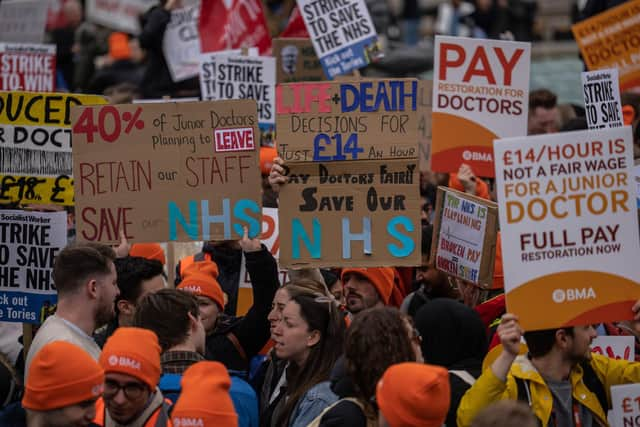 Dr Chris Smith, chair of BMA's Scottish junior doctor committee, said the offer showed "progress has been made". But he said ultimately the decision to accept the offer and back down on strike action now lay with BMA members, who may not accept the deal following years of sub-inflationary pay rises.
The BMA is officially staying neutral during the ballot, and not recommending its members reject or accept the offer. But it has outlined its arguments for full pay restoration and reiterated to the Scottish Government it still has an overwhelming strike mandate.
"I think Scottish doctors recognise the progress that has been made," said Dr Smith. "But they will also recognise that this is a genuine fork in the road in our ambition to achieve full pay restoration.
"The deal could be accepted and could be built on in the future, or it could be decided that this isn't sufficient in the short term and that we need to do more.
"All options are on the table in that case, but it's now up to the membership to decide what they want the union to do."
Dr Smith said junior doctors had lost around 23.5 per cent in real terms wages since 2008, due to sub-inflationary pay increases "which haven't kept pace with the rising cost of living".
He said "doctors have realised we're not worth 25 per cent less than our peers in 2008", and added junior doctors' workload "has increased dramatically" since then, effectively leaving them paid less to do more.
The BMA says it has chosen to measure pay against 2008 as that is "a benchmark from when the NHS was working really well".
Health secretary Michael Matheson has described the offer as the largest in the past 20 years and the best for junior medics across the UK.
Junior doctors in Scotland backed strike action by 97 per cent amid calls for a pay increase of around 35 per cent, including 23.5 per cent pay restoration and 12 per cent to combat inflation.
However, Mr Matheson has repeatedly said the BMA's demands are "simply unaffordable", and medics will now vote on whether to accept the updated offer.
Mr Matheson said: "After weeks of intense negotiations I'm delighted our government and BMA Scotland have come to an agreement on pay, which they will now put to their members.
"Recognising the incredible work that junior doctors do, we have offered a fair and progressive rise, which will mean a pay increase of 14.5 per cent over two years – the best offer on the table in the UK.
"We have taken their concerns regarding pay, and the need to modernise pay bargaining more broadly, extremely seriously.
"It's now up to junior doctors to reflect on this final offer and I hope they will accept."
Trade unions and individual healthcare profession associations, such as the Royal College of Nursing and the Royal College of General Practitioners, have been warning of a 'vacancy crisis' within NHS Scotland for some time, as the healthcare system struggles with both the retention and recruitment of staff.
Dr Smith said "pay is one of the main issues, if not the main issue" facing the NHS and "driving the recruitment and retention crisis".
"Morale in the NHS is really low," he said. "Scottish junior doctors are feeling overworked, underpaid and undervalued.
"Restoring our pay will be a good first step and it's actually an easy, quick thing to do to make them feel valued and therefore keep them in the NHS."
However, Dr Smith warned that without pay restoration, "more people will leave, which will mean more appointments cancelled, there won't be enough people for the clinics".
He said: "You'll see people working harder and burning out, which means there'll be further gaps in the rotas, which means that people have to work harder to make up for it, which means people burn out.
"And you can quickly see that that becomes a really dangerous cycle that we want to get out of. The best way of getting out of that is bringing pay back up to the 2008 levels and restoring that 23-and-a-half per cent that we've had taken from us."
If accepted, the latest pay offer would see junior doctors at the beginning of their career receive a total salary increase of £3,834 over the two years. Those at the end of their training would see their pay rise by £7,951 over the same period.
If junior doctors vote against accepting the deal, the threat of strike action will become much more likely.
During last month's four-day junior doctors strike in England, there were 195,000 cancellations. At the peak of the action, there were 27,361 staff not at work due to industrial action. However, the workforce data collection was incomplete, so these figures do not paint the full picture.
There were 175,000 cancellations across three days in the previous junior doctors' strike south of the border.
Mr Matheson has previously said a junior doctors' strike would cause "significant disruption" and has warned all 14 of Scotland's regional health boards to draw up contingency plans for industrial action.