Michael Matheson, who took over the role from his now-boss Humza Yousaf, said some recruitment issues were caused by the limited number of specialist roles in less-populated areas, Brexit, and the knock-on effects of austerity on the Scottish Government's coffers.
The British Medical Association (BMA), whose junior doctors recently voted to conduct strike action over their pay dispute with the Scottish Government, says pay is the major factor holding back NHS Scotland's recruitment and retention, which in turn is leading to the immense pressure on the healthcare system.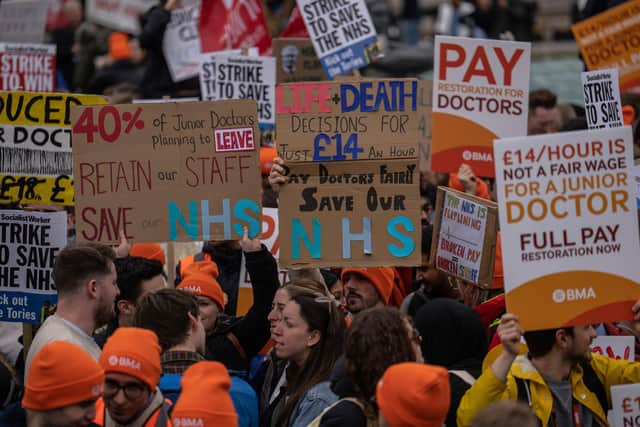 Scotland on Sunday's front page on the weekend revealed how more than 75,000 NHS staff have taken absence with mental health issues in the past five years, with the annual figure doubling over that period. It shows the immense strain healthcare workers are under, why many are considering careers in other sectors, and why potential recruits may think twice about a career in the NHS.
Even senior workers are considering throwing in the towel. Last month, research from the University of Dundee revealed nearly half of all senior hospital doctors in Scotland aged 50 and over intend to retire before normal pension age.
And we've previously reported how, despite a dedicated team of partners, a commitment to training and retaining new doctors and a patient list in excess of 25,000 people, one of the largest GP surgeries in Scotland has had to hand its contract back to the local authority.
Dr Iain Innes, one of the partners at Inverurie Medical Practice, in Aberdeenshire, said his team of medical professionals "cannot continue to provide the level of care we would wish to without recruiting new GPs".
In response to Mr Matheson's comments on pay, Dr Chris Smith, chair of BMA Scotland's junior doctor committee, told me conditions and workload in the NHS, and with it recruitment and retention, "could both be improved by better pay".
"We understand that is a serious commitment, but the NHS is nothing without its staff – and junior doctors are at the absolute core of how the NHS cares for the people of Scotland," Dr Smith said.
"Investing in them now is a down payment on the future of the NHS – making sure they are here in the future and haven't been tempted away, as many of us currently are, by better pay and conditions elsewhere.
"Of course, any potential strike action would be disruptive – we wouldn't engage in it lightly – but that simply illustrates how crucial junior doctors are to the operation of the whole of the NHS."
Pay and conditions affect recruitment and retention, which in turn affect the pressure on NHS Scotland's primary services. Mr Matheson says NHS waiting times is one of the areas he should be judged on – it's hard to think of a quicker, simpler fix than paying healthcare workers properly.