NHS Scotland crisis: Scottish Labour backs merging health boards to 'refocus the NHS' at a local level
Scottish Labour has backed the merger of health boards to "refocus the NHS" at a local level.
The party's health spokesperson and deputy leader, Jackie Baillie, would want a hypothetical Labour government to reorganise the NHS "so we are putting people where it matters".
Ms Baillie was asked "do you think that [the merger of NHS health boards] is really the solution to the problems that the NHS faces?"
"No, but it's one part of what we need to do to refocus the NHS," she told BBC Scotland's Sunday show. "I'm very proud it was Labour that created the NHS and it's free at the point of need, and we want to continue that.
"Increasingly, people tell me that the focus should be on primary care and it should be on social care.
"Health boards sit at the regional level, but what we need is investment and focus at a local level.
"We currently have 32 health and social care partners, partnerships, 14 territorial health boards, eight special boards, three regional planning units. We actually need to kind of rationalise some of that, so that we are putting people where it matters, with a focus on primary care and a focus on social care.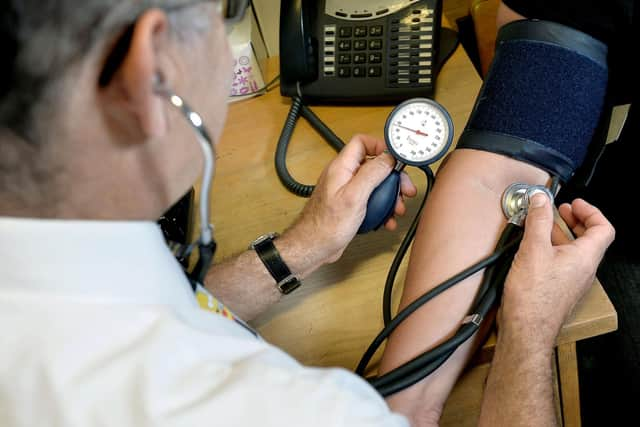 "So it's not reorganisation, for the sake of it. It is reorganisation, so that we can direct the focus and resources to parts of the NHS that need it the most."
Asked whether Labour would raise taxes to fund the NHS, Ms Baillie said: "There's already record sums spent on the NHS, and had Nicola Sturgeon, when she was health minister, passed on all the resources that were given to her from the UK Government, then the NHS would be £1 billion better off today than than otherwise.
"An incoming UK Labour government has already committed to a huge expansion in the numbers of trainees for the workforce, whether that's doctors or nurses or allied health professionals.
"We in Scotland would get a share of that money that we could invest as we saw fit, and clearly making sure we have enough staff – not just recruiting new staff, but retaining existing ones has to be the top priority for any government."
Meanwhile, the head of health intelligence at NHS Grampian, Jilian Evans, said the problems NHS Scotland was experiencing was down to recruitment and retention of staff.
Asked about the Scottish Government's national treatment centres, which are a network of health facilities which will add capacity to health care in areas where there is pressure, Ms Evans said opening up more capacity "adds to the challenge" of workforce issues.
"We know that there's a backlog," she said. "But, of course, they depend on workforce, and that will always be a really difficult thing to square. We don't have enough workforce and we certainly have a high turnover of workforce, which makes it difficult for us to maintain services well."
Ms Evans added: "It's very welcomed to have better facilities, and that's something that we all benefit from because they're new buildings, they're greener. They make health care work more efficiently, so they're the right thing to do, but workforce will always be a constraint under consideration."
Comments
 0 comments
Want to join the conversation? Please or to comment on this article.