NHS Scotland crisis: Health board expects to be in deficit for five more years as budget cuts hit
​Bosses at a Scottish health board have told MSPs they expect to have to run a deficit for at least the next five years.
Bosses at a Scottish health board have told MSPs they expect to have to run a deficit for at least the next five years.
Professor Caroline Hiscox, chief executive at NHS Grampian, told of the "financial fragility" of the situation.
The heath board's financial plan for 2023-24 - which has been submitted to the Scottish Government - includes what is described as a "significant revenue overspend of £60 million" even after efficiency savings of 3% are achieved.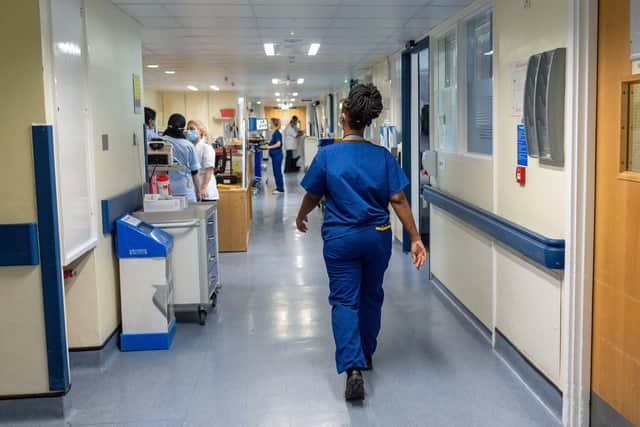 The Government has now asked for the financial plan to be resubmitted by the end of June - but board papers say "re-examining" the document will "still entail striking a balance between financial constraints and operational pressures".
Giving evidence to MSPs on Holyrood's Health, Social Care and Sport Committee on Tuesday, Prof Hiscox said the "underlying financial position is one part of a pretty complex picture".
She told the committee the board has a "new strategic intent" with plans to "move us to a more sustainable health and care system, which obviously finances are a core component of".
She said the health board managed to return a balanced budget in 2022-23, despite at one point having a projected deficit of £19.9 million.
A "number of one-off funding streams" from the Government" helped tackle the deficit, she added.
Prof Hiscox said the health board has previously "always achieved revenue balance", but she told the committee: "We are now seeing a step change in the financial challenges we face as a board.
"With current planning assumptions, NHS Grampian will not be in a position to balance the revenue position with funding levels and anticipated expenditure over the next five years."
While she said the financial position the health board faces should "improve year on year", it is anticipated it will still have a deficit in 2028.
She told MSPs: "Our annual deficit position for this coming year is looking at £60.6 million in year, which will improve, but we will remain in deficit, with the current projections, in year five."
She added that "one of the biggest changes" in how the health board spends its money is in relation to staffing costs.
Prof Hiscox said: "We're now spending a higher proportion of our resources on pay costs, that's 54%, and 46% on non-pay."
Last year the health board spent £17 million on medical locums, with a further £12.6 million going on agency nursing staff, she added.
She said the board has developed a three-year financial plan up to 2026 and a five-year medium-term financial framework, as part of efforts to "move towards sustainable health and care".
Prof Hiscox told MSPs: "In our plan for the future, the sustainability and recovery of the financial position is key.
"We have a very challenged financial position which is similar to the rest of the public sector in Scotland and specifically health care."
Comments
 0 comments
Want to join the conversation? Please or to comment on this article.