A survey of over five hundred specialist accident and emergency (A&E) nurses by the Royal College of Nursing (RCN), revealed more than eight in ten say treatment in non-designated clinical areas, including store rooms, has increased since the beginning of last year.
Over nine in ten raised concerns that patients may be receiving unsafe care, while more than three in five added that the situation leads to fears of being struck off the nursing register or a court case as a result of patient harm.
Two thirds have faced increased violence or aggression from frustrated patients and relatives, the survey has revealed, while a third said they did not feel comfortable to raise concerns about the impact of providing care in inappropriate settings.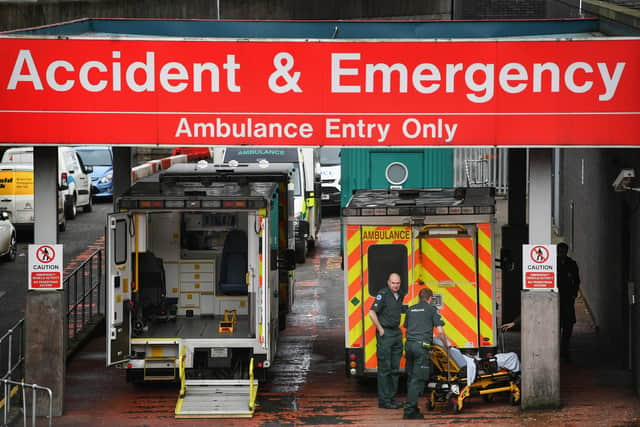 The general secretary and chief executive of the RCN, Pat Cullen, described the survey as a "bleak picture" from across the UK's national health services.
"Patients backed-up through emergency departments is a stark sign of a health and care system grinding to a halt," said Cullen.
"A corridor is no place to die and no place to work either. When ministers fail to grip this situation, they allow patients to pay a high price and nursing staff to work in fear, professionally compromised.
"Governments must urgently plan and invest to reverse this new trend."
The RCN's Scotland director, Colin Poolman, added that the issue "goes far beyond the doors of emergency departments".
"Nursing staff across many acute settings are desperately struggling as they are forced to provide patient care in corridors and other inappropriate locations", said Poolman.
"Earlier this month RCN members met with MSPs at Holyrood to discuss the challenges facing the nursing workforce and during the conversation some members shared difficult stories about their experiences of care in inappropriate settings and the damaging impact on patient safety and dignity.
"This current situation is completely unacceptable for nurses and patients. No patient should ever have to suffer the risk or indignity of being cared for in such a way – and it cannot be allowed to continue to become normal practice in today's NHS."
Scottish Labour health spokesperson Jackie Baillie said: "Every day, Scotland's heroic nursing workforce work around the clock to keep patients safe, but they are being failed by this SNP government.
"That patients are having to be treated in corridors and waiting rooms is symptomatic of government failure to support our NHS and the staff that serve it.
"If we are to avoid a deepening of the NHS crisis then we need Michael Matheson to step up to the plate, listen to nursing staff and act to keep people safe."
The survey has been published ahead of the RCN's Annual Congress, which begins today in Brighton.
The full conference will discuss the impact of 'corridor care' and the "moral injury and distress for nursing staff, knowing that they are providing suboptimal care to patients".
In her keynote address tomorrow, Pat Cullen will say "health and care systems around the UK are sailing dangerously close to the wind."