NHS data for the week ending January 22 showed of the 21,527 people who attended emergency departments across the country, 70.1 per cent were seen and either admitted, transferred or discharged.
The total is still well below the Scottish Government target of having 95 per cent of cases in A&E dealt with within four hours.
But it is the highest proportion of patients treated within the target time since the week ending May 22 last year – eight months ago.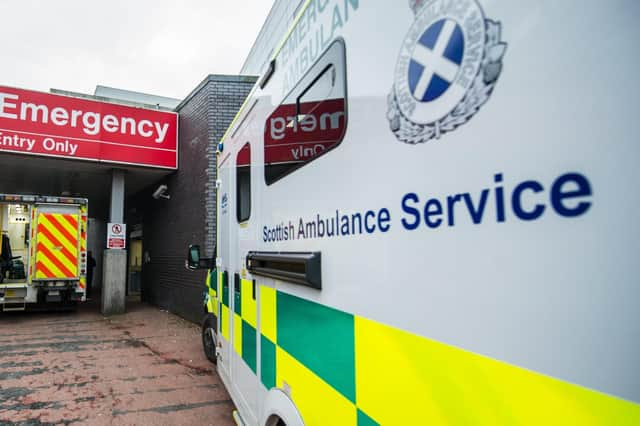 And in the midst of what ministers have described as the toughest winter ever for the NHS, performance fell to a record low of 55.1 per cent against the target in the week ending December 18.
Public Health Scotland statistics showed 6,435 people spend four hours or more in A&E in the week ending January 22 – down from 7,423 the previous week and from a high of 11,493 in mid-December.
The latest data also showed 2,331 patients in A&E for eight hours or more, down from 3,015 the previous week – while the number spending half a day or more there dropped from 1,504 to 1,031.
However, two hospitals treated fewer than half of A&E patients within the four-hour target – with just 40.1 per cent of patients seen within this time at Aberdeen Royal Infirmary, and 45.9 per cent of patients at the Royal Infirmary of Edinburgh.
Health secretary Humza Yousaf said he was "encouraged to see improvements in our weekly performance", noting although the number attending at A&E had increased, the number of patients with long waits had gone down.
He stated: "Waits of over eight hours have gone down by around 53 per cent since the recent peak over the holiday period, with 12-hour waits decreasing by 59 per cent.
"Performance over four hours is the best we have seen since last May. This is welcome and recent progress is a testament to the exceptional efforts of NHS staff."
Mr Yousaf continued: "We are doing everything we can to help the health service through the remainder of the most challenging winter in its history.
"We are providing £8 million to boards to utilise 300 new care beds to increase capacity and alleviate delayed discharge pressures and will increase NHS24 staffing to help cope with rises in demand."
Labour health spokesperson Jackie Baillie said while the latest figures were "an improvement on the dismal winter A&E stats", she stressed "the fact remains that our NHS is in crisis with thousands waiting too long for treatment".
Ms Baillie said this meant that "patient and staff wellbeing is still at risk, lives are being lost and delayed discharge is at breaking point".